How Languages Work
: An Introduction to Language and Linguistics
A Paperback edition by Carol Genetti in English (Jan 23, 2014)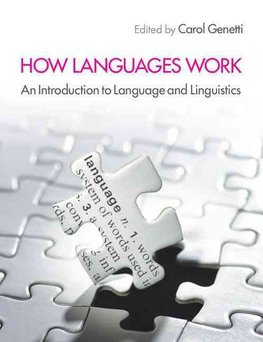 Short Description: A new and exciting introduction to linguistics, this textbook presents language in all its amazing complexity, while guiding students gently through the basics. Students emerge... Read more
Product Description
A new and exciting introduction to linguistics, this textbook presents language in all its amazing complexity, while guiding students gently through the basics. Students emerge with an appreciation of the diversity of the world's languages, as well as a deeper understanding of the structure of human language, the ways it is used, and its broader social and cultural context. Chapters introducing the nuts and bolts of language study (phonology, syntax, meaning) are combined with those on the 'functions' of language (discourse, prosody, pragmatics, and language contact), helping students gain a better grasp of how language works in the real world. A rich set of language 'profiles' help students explore the world's linguistic diversity, identify similarities and differences between languages, and encourages them to apply concepts from earlier chapter material. A range of carefully designed pedagogical features encourage student engagement, adopting a step-by-step approach and using study questions and case studies.
How Languages Work Paperback edition by Carol Genetti
Product Details
Product Specification
Edited by

ISBN-13

9780521174688

Format

Paperback,

Publisher

Publication date

Jan 23, 2014

Pages

674

Product dimensions

190 x 245 x 30mm

Weight

1,422g
1. Introduction: language, languages, and linguistics Carol Genetti; 2. Phonetics: physical dimensions of speech sounds Matthew Gordon; 3. Phonology: organization of speech sounds Matthew Gordon; 4. Morphology: what's in a word? Marianne Mithun; 5. Word classes: evidence from grammatical behavior Carol Genetti; 6. Syntax: words in combination Carol Genetti; 7. Semantics: how language makes sense Michael Israel; 8. Pragmatics: inference for language Mira Ariel; 9. Discourse: language beyond the sentence Wallace Chafe; 10. Prosody: the music of language Wallace Chafe; 11. Language and the social world Mary Bucholtz; 12. Language change: the dynamicity of linguistic systems Marianne Mithun; 13. Language contact and areal linguistics Alexandra Y. Aikhenvald; 14. First language acquisition Patricia Clancy; 15. Second language acquisition Dorothy Chun and Jan Frodesen; Language Profiles: 1. Kabardian Matthew Gordon and Ayla Applebaum; 2. Goemai Birgit Hellwig; 3. Manange Kristine Hildebrandt; 4. Finnish Ritva Laury; 5. Nuuchahnulth (Nootka) Toshihide Nakayama; 6. South Conchucos Quechua Daniel Hintz; 7. Tsez Bernard Comrie; 8. Bardi Claire Bowern; 9. Lowland Chontal Loretta O'Connor; 10. Manambu Alexandra Y. Aikhenvald and Carol Genetti; 11. Indonesian Robert Englebretson; 12. Seneca Wallace Chafe; 13. Akkadian Guy Deutscher.
Categories