Ecological Reviews: Island Colonization: The Origin and Development of Island Communities
A Paperback edition by Ian Thornton in English (Mar 19, 2007)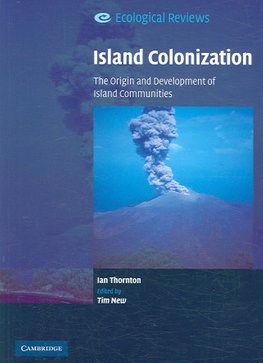 Get 5% off with code 5APR19 when buying 2 or more items

FREE delivery to United States in 10-17 working days
Short Description: New or recently sterilized islands (for example through volcanic activity), provide ecologists with natural experiments in which to study colonization, development and... Read more
Product Description
New or recently sterilized islands (for example through volcanic activity), provide ecologists with natural experiments in which to study colonization, development and establishment of new biological communities. Studies carried out on islands like this have provided answers to fundamental questions as to what general principles are involved in the ecology of communities and what processes underlie and maintain the basic structure of ecosystems. These studies are vital for conservation biology, especially when evolutionary processes need to be maintained in systems in order to maintain biodiversity. The major themes are how animal and plant communities establish, particularly on 'new land' or following extirpations by volcanic activity. This book comprises a broad review of island colonization, bringing together succession models and general principles, case studies with which Professor Ian Thornton was intimately involved, and a synthesis of ideas, concluding with a look to the future for similar studies.
Ecological Reviews: Island Colonization: The Origin and Development of Island Communities Paperback edition by Ian Thornton
Product Details
Product Specification
Author

Edited by

Series edited by

Series edited by

Series edited by

Series edited by

Series edited by

ISBN-13

9780521671064

Format

Paperback,

Publisher

Publication date

Mar 19, 2007

Pages

302

Product dimensions

171 x 247 x 15mm

Weight

612g
Preface; Part I. Introduction: Theoretical and Experimental Studies: 1. Introduction; 2. Theoretical and experimental colonization; Part II. Natural Recolonization after Devastation: 3. A clean slate?; 4. Life returns- primary colonization of devastated surfaces; Part III. The Recolonization of Devastated Islands: 5. Recovering island biotas: volcano and Barcena; 6. Thera, Santorini group, Mediterranean; 7. Long and Ritter Islands, Bismarck Sea; 8. Krakatau, Sunda Strait; Part IV. Assembly of Biotas on New Islands: 9. Lake Wisdom- a new island of fresh water; 10. New islands in the sea; 11. Anak Krakatau, Krakatau's child, b. 1933; 12. Surtsey, Island of Surtur, b. 1963; 13. Motmot - a new island in fresh water; Part V. Colonization and Assembly: 14. Dispersal; 15. Stepping stone islands - the case of Sebesi; 16. Learning from nature's lessons; Literature cited; Index.
Categories
Non-Fiction Science & Medicine Earth Sciences, Geography, Environment, Planning The Environment Conservation Of The Environment
Non-Fiction Science & Medicine Biology, Life Sciences Life Sciences: General Issues Ecological Science, The Biosphere
Non-Fiction Science & Medicine Biology, Life Sciences Botany & Plant Sciences
Non-Fiction Science & Medicine Biology, Life Sciences Botany & Plant Sciences Plant Ecology
Non-Fiction Science & Medicine Biology, Life Sciences Zoology & Animal Sciences
Non-Fiction Science & Medicine Biology, Life Sciences Zoology & Animal Sciences Animal Ecology
Non-Fiction Science & Medicine Earth Sciences, Geography, Environment, Planning The Environment Applied Ecology