Using German Vocabulary
A Paperback edition by Sarah M. B. Fagan in English (May 27, 2004)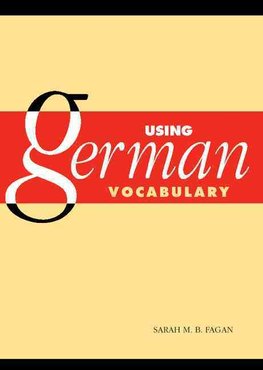 $77.07 + FREE delivery
RRP $84.99 You save $7.92 (9%)
Short Description: This textbook provides a comprehensive and thematically structured vocabulary for undergraduate students of German. Divided into twenty manageable units, it covers vocabulary... Read more
Product Description
This textbook provides a comprehensive and thematically structured vocabulary for undergraduate students of German. Divided into twenty manageable units, it covers vocabulary relating to the physical, social, cultural, economic, and political worlds. Word lists are graded into three levels reflecting difficulty and usefulness, and are accompanied by extensive exercises designed to reinforce work with the lists that is suitable for classroom and private study. Clearly organized and accessible, the volume will meet the needs of a variety of courses in any undergraduate program.
Using German Vocabulary Paperback edition by Sarah M. B. Fagan
Product Details
Product Specification
Author

ISBN-13

9780521797009

Format

Paperback,

Publisher

Publication date

May 27, 2004

Pages

596

Product dimensions

172 x 235 x 37mm

Weight

1,126g
1. Towns and buildings, household, gardens; 2. The physical world, the animal world, weather; 3. The human body and health, the health service and medicine; 4. Physical appearance, gesture and movement; 5. Personality and human behavior; 6. Clothes, accessories and grooming, food and drink; 7. Perception, color and light, materials and textures; 8. Shapes and patterns, size and quantity, containers, time; 9. Visual and performing arts, media and popular culture; 10. Literature and literary criticism, speaking, reading and writing; 11. Leisure, sport; 12. Tourism, travel and transport; 13. Family, birth, death, and marriage, religion; 14. Education, science; 15. Agriculture, industry; 16. Business and commerce, employment; 17. The office and computing, post and telecommunications; 18. Law, finance; 19. Geography, history, war, and peace; 20. Politics and international relations, public services, social and environmental issues; Answers to the exercises.
Categories
Non-Fiction Language & Reference Language & ELT Language Teaching & Learning Language Teaching & Learning Material & Coursework Grammar & Vocabulary