Sustainable Energy - without the hot air
A Paperback edition by David J. C. MacKay in English (Dec 1, 2008)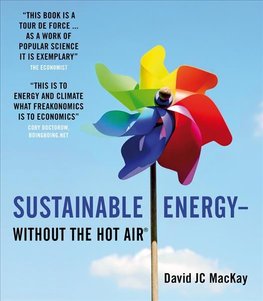 $40.23 + FREE delivery
RRP $50.00 You save $9.77 (19%)
FREE delivery to United States in 6-12 working days

Ready To Go

This book will leave our UK warehouse within 1-2 working days.

Order by 14th December for Christmas delivery to the United States
Short Description: Addressing the sustainable energy crisis in an objective manner, this enlightening book analyzes the relevant numbers and organizes a plan for change on both a personal level and... Read more
Product Description
Addressing the sustainable energy crisis in an objective manner, this enlightening book analyzes the relevant numbers and organizes a plan for change on both a personal level and an international scalefor Europe, the United States, and the world. In case study format, this informative reference answers questions surrounding nuclear energy, the potential of sustainable fossil fuels, and the possibilities of sharing renewable power with foreign countries. While underlining the difficulty of minimizing consumption, the tone remains positive as it debunks misinformation and clearly explains the calculations of expenditure per person to encourage people to make individual changes that will benefit the world at large.
Sustainable Energy - without the hot air Paperback edition by David J. C. MacKay
Product Details
Product Specification
Author

ISBN-13

9780954452933

Series

Format

Paperback,

Publisher

Publication date

Dec 1, 2008

Pages

384

Product dimensions

195 x 218 x 25mm

Weight

1,008g
I Numbers, not adjectives
1 Motivations
2 The balance sheet
3 Cars
4 Wind
5 Planes
6 Solar
7 Heating and cooling
8 Hydroelectricity
9 Light
10 Offshore wind
11 Gadgets
12 Wave
13 Food and farming
14 Tide
15 Stuff
16 Geothermal .
17 Public services
18 Can we live on renewables?
II Making a difference
19 Every BIG helps
20 Better transport
21 Smarter heating
22 Efficient electricity use
23 Sustainable fossil fuels?
24 Nuclear?
25 Living on other countries' renewables?
26 Fluctuations and storage
27 Five energy plans for Britain
28 Putting costs in perspective
29 What to do now .
30 Energy plans for Europe, America, and the World
31 The last thing we should talk about
32 Saying yes
Acknowledgments
III Technical chapters
A Cars II
B Wind II
C Planes II
D Solar II
E Heating II
F Waves II
G Tide II
H Stuff II
IV Useful data
I Quick reference
J Populations and areas
K UK energy history
List of web links
Bibliography
Index
About the author
Categories
Non-Fiction Engineering, Technology & Mathematics Energy Technology & Engineering Alternative & Renewable Energy Sources & Technology
Non-Fiction Science & Medicine Earth Sciences, Geography, Environment, Planning The Environment Sustainability