The University of Oxford
: A New History
A Paperback edition by G. R. Evans in English (Jun 28, 2013)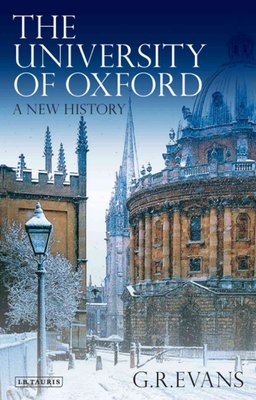 Short Description: The University of Oxford was a medieval wonder. After its foundation in the late 12th century it designed one of Europe's most admired syllabuses for the study of the liberal arts... Read more
Product Description
The University of Oxford was a medieval wonder. After its foundation in the late 12th century it designed one of Europe's most admired syllabuses for the study of the liberal arts (the trivium and the quadrivium) and theology, and attracted teachers of international caliber and fame. The ideas of brilliant thinkers like Robert Grosseteste (who in the early 13th century mastered and taught Greek when almost no-one else was doing so), pioneering Franciscan philosopher Roger Bacon (zealous proponent of experimental science) and reforming Christian humanist John Colet redirected traditional scholasticism and helped usher in the Renaissance. In this latest installment of her major two-volume history of the great rival institutions of Oxford and Cambridge, G R Evans turns to the elder university and reveals a powerhouse of learning and culture. Over a span of more than 800 years Oxford has nurtured some of the greatest minds, while right across the globe its name is synonymous with educational excellence. From dangerous political upheavals caused by the radical and inflammatory ideas of John Wyclif to the bloody 1555 martyrdoms of Hugh Latimer and Nicholas Ridley; and from John Ruskin's innovative lectures on art and explosive public debate between Charles Darwin and his opponents to gentler meetings of the Inklings in the 'Bird and Baby', Evans brings Oxford's revolutionary events, as well as its remarkable intellectual journey, to vivid and sparkling life.
The University of Oxford Paperback edition by G. R. Evans
Product Details
Product Specification
Author

ISBN-13

9781780764948

Format

Paperback,

Publishers

Publication date

Jun 28, 2013

Pages

384

Product dimensions

140 x 214 x 29mm

Weight

446g
Preface
Acknowledgments
Abbreviations
List of Illustrations
Introduction: Coming to Oxford
1 Towards Oxford today
Not an Inkling of the future?
Riding out the First World War
Oxford takes the state's penny
Letting the women in: 1920 and after
Between the Wars
The Second World War and its aftermath
A Symposium at Worcester: the 1950s to the 1980s
From student protest to the battle for academic freedom
The 1990s and the beginning of another Oxford century
2 Oxford's Middle Ages
Oxford from the inside: inventing a University
Designing a syllabus
Housing the scholars
Quarrels and confrontations
3 Oxford and the interfering Tudors
Renaissance in Oxford
Reformation in Oxford
Consequences for the colleges
Another inspection: Edward VI goes `visiting'
Mary Tudor's Visitors: the volte-face
Elizabeth puts Oxford under the statutes of the realm
Teaching the arts from the late sixteenth century
4 Oxford keeps up with the times
Oxford and the state
A society of scholars: student life in the seventeenth and eighteenth centuries
Independent intellectuals and new styles of academic life
Teaching: the changing intellectual life of Oxford
Experiments in collegiate life and new ideas about universities
The Bodleian Library and the University Press
5 The nineteenth-century transformation
Varieties of student life at Oxford
The Oxford Movement
State interference and the threat of external `reform' brings about major change
What became of the liberal arts?
Bringing the syllabus up to date: the Oxford reform of classical education
Oxford studies the sciences
Examinations reformed
Oxford does its bit for social mobility
Conclusion
Notes
Select bibliography
Index
Categories
Non-Fiction History, Politics & Philosophy History Regional & National History European History British & Irish History
Education Teaching Resources History Of Education
Education Teaching Resources Educational Psychology
Education Teaching Resources Higher & Further Education, Tertiary Education Universities
Education Teaching Resources Higher & Further Education, Tertiary Education