A Critique of the Theory of Abrogation
A Paperback edition by Dr. Jasser Auda in English (Jan 3, 2019)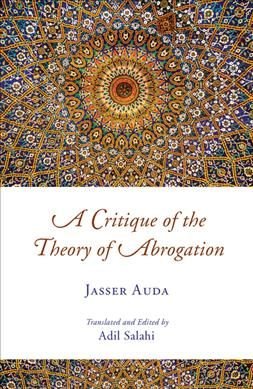 $13.33 + FREE delivery
RRP $16.95 You save $3.62 (21%)
Get 5% off with code 5APR19 when buying 2 or more items

FREE delivery to United States in 10-18 working days
Short Description: A typical definition of abrogation found in the Jurisprudence literature is: ?The (heavenly) replacement of one juridical ruling with a later ruling.'... Read more
Product Description
A typical definition of abrogation found in the Jurisprudence literature is: ?The (heavenly) replacement of one juridical ruling with a later ruling.'
This book surveys the subject of abrogation (Naskh) in the Qur'an, Hadith and Islamic literature, illustrating that the concept of abrogation was introduced after the Prophetic era in order to explain certain verses of the Qur'an and what has come to be termed as ?conflicting Prophetic narrations? (Mukhtalaf al-Hadith).
It goes on to suggest that the ?abrogated rulings? were merely pre-Islamic cultural practices that contradicted with Islamic principles. Furthermore, the book argues that the Qur'anic verses and Prophetic narrations, which were misperceived as ?conflicting,? should be contextually situated and applied according to the wisdom behind them with the practical implication being the validation of all Qur'anic verses and (authentic) Prophetic instructions regardless of their perceived contradictions. Allowing Islamic jurisprudence to retain its flexibility within changing circumstances.
A Critique of the Theory of Abrogation Paperback edition by Dr. Jasser Auda
Product Details
Product Specification
Author

Translated by

ISBN-13

9780860377306

Format

Paperback,

Publisher

Publication date

Jan 3, 2019

Pages

160

Product dimensions

127 x 196 x 13mm

Weight

160g
Table of Contents
Introduction
Chapter One: Objectives of Islamic Law: Concepts and Aims
Chapter Two: Internal Contradiction or Mutual Exclusion by a Scholar
2.1 Mutual exclusion or contradiction
2.2 Contradiction between texts
2.3 Ways of dealing with superficial contradiction
Chapter Three: Abrogation: Definitions and Uses
3.1 Linguistic and technical definitions
3.2 The limitation, exception or interpretation of an earlier text by a later one
3.3 Abrogation as meaning final annulment of a religious ruling
Chapter Four: A Critique of Some Methodologies Confirming Abrogation
4.1 Is there any definitive evidence of the abrogation of any Qur'anic verses?
4.2 Contradiction as evidence for abrogation
4.3 Abrogation on the basis of dates: Are we required to adopt the latest?
4.4 No abrogation based on anyone's personal opinion
4.5 What does `express' abrogation mean? Is it enough to prohibit something after it was permissible, or to permit it after it was prohibited?
Chapter Five: Cases of How Objectives Help in the Enforcement of Superficially Contradictory Texts
5.1 Objectives of protecting the approved essentials by the Muslim government
5.2 The objective of making things easier through a gradual implementation of Islamic laws
5.3 Striking the balance between the objectives of worship and keeping things easy
5.4 Balancing the objectives of human beings' safety and protecting the environment
Theoretical and Practical Conclusions
Bibliography
Index
Categories