A Darker Shade of Magic Collector's Edition
A Hardback edition by V E Schwab in English (Nov 3, 2017)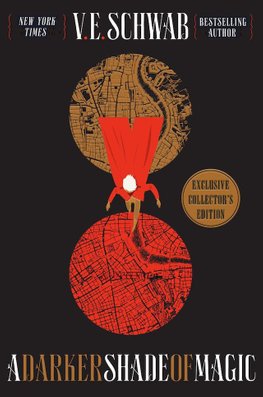 $20.54 + FREE delivery
RRP $25.99 You save $5.45 (20%)
Short Description: A new collector's edition of A Darker Shade of Magic, the first volume in Schwab's popular Shades of Magic trilogy. The author tells us this new edition will feature:... Read more
Product Description
A new collector's edition of A Darker Shade of Magic, the first volume in Schwab's popular Shades of Magic trilogy. The author tells us this new edition will feature:
"Super Shiny Cover with Metallic Ink
Reading Ribbon of Great Fanciness
Fan Art End Papers
A Glossary of Arnesian and Antari Terms
An Interview Between Author and Editor
Original (never before seen!) Tales from within the Shades of Magic World"
STEP INTO A UNIVERSE OF DARING ADVENTURE, THRILLING POWER, AND MULTIPLE LONDONS.
Kell is one of the last Travelers-magicians with a rare, coveted ability to travel between parallel universes, connected by one magical city.
There's Grey London, dirty and boring, without any magic, and with one mad king-George III. Red London, where life and magic are revered-and where Kell was raised alongside Rhys Maresh, the rougish heir to a flourishing empire. White London-a place where people fight to control magic, and the magic fights back, draining the city to its very bones. And once upon a time, there was Black London. But no one speaks of that now.
Officially, Kell is the Red Traveler, ambassador of the Maresh empire, carrying the monthly correspondences between the royals of each London. Unofficially, Kell is a smuggler, servicing people willing to pay for even the smallest glimpses of a world they'll never see. It's a defiant hobby with dangerous consequences, which Kell is now seeing firsthand.
Fleeing into Grey London, Kell runs into Delilah Bard, a cut-purse with lofty aspirations. She first robs him, then saves him from a deadly enemy, and finally forces Kell to spirit her to another world for a proper adventure.
Now perilous magic is afoot, and treachery lurks at every turn. To save all of the worlds, they'll first need to stay alive.
-A Darker Shade of Magic has all the hallmarks of a classic work of fantasy. Schwab has given us a gem of a tale...This is a book to treasure.---Deborah Harkeness, New York Times bestselling author of the All Souls trilogy.
A Darker Shade of Magic Collector's Edition Hardback edition by V E Schwab
Product Details
Product Specification
Author

ISBN-13

9780765399113

Series

Format

Hardback, With dust jacket

Publisher

Publication date

Nov 3, 2017

Pages

432

Product dimensions

147 x 213 x 35mm

Weight

550g
Categories
Fiction Science Fiction & Fantasy Fantasy