A Tale of Two Fractals
A Hardback edition by A. A. Kirillov in English (Apr 23, 2013)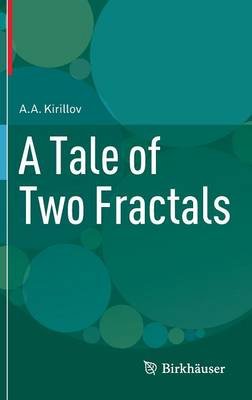 $53.17 + FREE delivery
RRP $59.99 You save $6.82 (11%)
Fewer than 10 available at this price
Get 10% off your second book with code: 10APR19 when buying 2 or more items

FREE delivery to United States in 9-17 working days
Short Description: Since Benoit Mandelbrot's pioneering work in the late 1970s, scores of research articles and books have been published on the topic of fractals. Despite the volume of literature in... Read more
Product Description
Since Benoit Mandelbrot's pioneering work in the late 1970s, scores of research articles and books have been published on the topic of fractals. Despite the volume of literature in the field, the general level of theoretical understanding has remained low; most work is aimed either at too mainstream an audience to achieve any depth or at too specialized a community to achieve widespread use. Written by celebrated mathematician and educator A.A. Kirillov, A Tale of Two Fractals is intended to help bridge this gap, providing an original treatment of fractals that is at once accessible to beginners and sufficiently rigorous for serious mathematicians. The work is designed to give young, non-specialist mathematicians a solid foundation in the theory of fractals, and, in the process, to equip them with exposure to a variety of geometric, analytical, and algebraic tools with applications across other areas.
A Tale of Two Fractals Hardback edition by A. A. Kirillov
Product Details
Product Specification
Author

ISBN-13

9780817683818

Format

Hardback,

Publisher

Publication date

Apr 23, 2013

Edition

2013 ed.

Pages

138

Product dimensions

162 x 244 x 17mm

Weight

396g
Introduction.- Part 1. The Sierpinski Gasket.- Definition and General Properties.- The Laplace Operator on the Sierpinski Gasket.- Harmonic Functions on the Sierpinski Gasket.- Part 2. The Apollonian Gasket.- Introduction.- Circles and Disks on Spheres.- Definition of the Apollonian Gasket.- Arithmetic Properties of Apollonian Gaskets.- Geometric and Group-Theoretic Approach.- Many-Dimensional Apollonian Gaskets.- Bibliography.
Categories
Non-Fiction Engineering, Technology & Mathematics Mathematics Algebra
Non-Fiction Engineering, Technology & Mathematics Mathematics Calculus & Mathematical Analysis Functional Analysis & Transforms
Non-Fiction Engineering, Technology & Mathematics Mathematics Geometry
Non-Fiction Engineering, Technology & Mathematics Mathematics Calculus & Mathematical Analysis
Non-Fiction Engineering, Technology & Mathematics Mathematics Combinatorics & Graph Theory
Non-Fiction Engineering, Technology & Mathematics Mathematics Applied Mathematics
Non-Fiction Engineering, Technology & Mathematics Mathematics Topology Algebraic Topology
Non-Fiction Engineering, Technology & Mathematics Mathematics Geometry Fractal Geometry
Non-Fiction Engineering, Technology & Mathematics Mathematics Topology Analytic Topology