ABCs of Mathematics
A Board book edition by Chris Ferrie in English (Sep 15, 2017)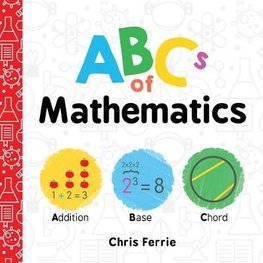 Fewer than 10 available at this price
FREE delivery to United States in 6-12 working days

Ready To Go

This book will leave our UK warehouse within 1-2 working days.

No longer available for delivery before Christmas to the United States
Short Description: Simple explanations of complex ideas for your future genius!... Read more
Product Description
Simple explanations of complex ideas for your future genius!
Written by an expert, The ABCs of Mathematics is a colorfully simple introduction for babies (and grownups!) to a new math concept for every letter of the alphabet-from addition all the way to zero. Each page in this mathematical primer features multiple levels of text so the book grows along with your little mathematician--read just one line of text per page to start or linger on the longer descriptions as baby's vocabulary expands. This alphabetical installment of the Baby University board book series is the perfect way to introduce basic concepts to even the youngest mathematician.
Baby University: It only takes a small spark to ignite a child's mind!