Action Bible Media Kit
A CD-ROM edition by Sergio Cariello in English (Oct 14, 2015)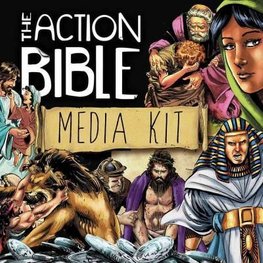 $38.60 + FREE delivery
RRP $49.99 You save $11.39 (22%)
Short Description: The Action Bible has introduced millions of children to the Bible with its unique storytelling and dramatic comic book?style illustrations. Now you have digital access to:... Read more
Product Description
The Action Bible has introduced millions of children to the Bible with its unique storytelling and dramatic comic book?style illustrations. Now you have digital access to:
? More than 100 pages of the most popular Bible stories and character images
? 12 dynamic posters featuring well-known Bible characters
? 12 character-focused bookmarks that align with the custom posters
? Artwork files provided in multiple formats (including .pdf and .jpg)
With this CD, you can offer high-quality media presentations at your church or simply decorate Sunday school rooms, drawing kids into the power of God's redemptive story.
Action Bible Media Kit CD-ROM edition by Sergio Cariello