Activated Carbon
A Hardback edition by Henry Marsh in English (Jul 12, 2006)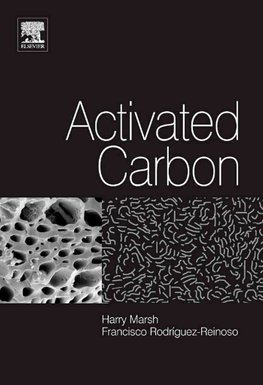 $262.82 + FREE delivery
RRP $280.00 You save $17.18 (6%)
Short Description: Recent years have seen an expansion in speciality uses of activated carbons including medicine, filtration, and the purification of liquids and gaseous media. Much of current... Read more
Product Description
Recent years have seen an expansion in speciality uses of activated carbons including medicine, filtration, and the purification of liquids and gaseous media. Much of current research and information surrounding the nature and use of activated carbon is scattered throughout various literature, which has created the need for an up-to-date comprehensive and integrated review reference. In this book, special attention is paid to porosities in all forms of carbon, and to the modern-day materials which use activated carbons - including fibres, clothes, felts and monoliths. In addition, the use of activated carbon in its granular and powder forms to facilitate usage in liquid and gaseous media is explored.
Activated Carbon will make essential reading for Material Scientists, Chemists and Engineers in academia and industry.
* Characterization of porosity
* The surface chemistry of the carbons,
* Methods of activation and mechanisms of adsorption.
* Computer modelling of structure and porosity within carbons.
* Modern instrumental analytical methods
Activated Carbon Hardback edition by Henry Marsh
Product Details
Product Specification
Author

ISBN-13

9780080444635

Format

Hardback,

Publishers

Publication date

Jul 12, 2006

Pages

554

Product dimensions

171 x 241 x 25mm

Weight

1,133g
Preface
Acknowledgements
1. Introduction to the Scope of the Text
2. Activated Carbons (Origins)
3. Porosity in Carbons: Modeling
4. Characterization of Activated Carbon
5. Activation Processes (Thermal or Physical)
6. Activation Processes (Chemical)
7. SEM and TEM Images of Structures in Activated Carbons
8. Applicability of Activated Carbon
9. Production and Reference Material
Author Index
Subject Index
Categories
Non-Fiction Science & Medicine Chemistry Organic Chemistry