Advanced Organic Chemistry
: Part A: Structure and Mechanisms
A Paperback edition by Francis A. Carey and Richard J. Sundberg in English (May 27, 2008)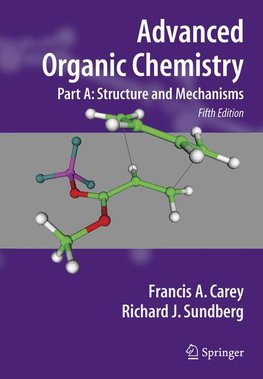 Short Description: The two-part, fifth edition of Advanced Organic Chemistry has been substantially revised and reorganized for greater clarity. The material has been updated to reflect advances in... Read more
Product Description
The two-part, fifth edition of Advanced Organic Chemistry has been substantially revised and reorganized for greater clarity. The material has been updated to reflect advances in the field since the previous edition, especially in computational chemistry. Part A covers fundamental structural topics and basic mechanistic types. It can stand-alone; together, with Part B: Reaction and Synthesis, the two volumes provide a comprehensive foundation for the study in organic chemistry. Companion websites provide digital models for study of structure, reaction and selectivity for students and exercise solutions for instructors.
Advanced Organic Chemistry Paperback edition by Francis A. Carey
Product Details
Product Specification
Author

Author

ISBN-13

9780387683461

Series

Format

Paperback,

Publisher

Publication date

May 27, 2008

Edition

Edition Number 5; Revised

Pages

1,199

Product dimensions

179 x 255 x 53mm

Weight

2,100g
Chemical Bonding and Molecular Structure.- Stereochemistry, Conformation, and Stereoselectivity.- Structural Effects on Stability and Reactivity.- Nucleophilic Substitution.- Polar Addition and Elimination Reactions.- Carbanions and Other Carbon Nucleophiles.- Addition, Condensation and Substitution Reactions of Carbonyl Compounds.- Aromaticity.- Aromatic Substitution.- Concerted Pericyclic Reactions.- Free Radical Reactions.- Photochemistry.
Categories
Non-Fiction Science & Medicine Biology, Life Sciences Biochemistry
Non-Fiction Science & Medicine Chemistry Organic Chemistry