Cambridge Tracts in Theoretical Computer Science: Algorithmic Information Theory Series Number 1
A Paperback edition by Gregory J. Chaitin in English (Dec 2, 2004)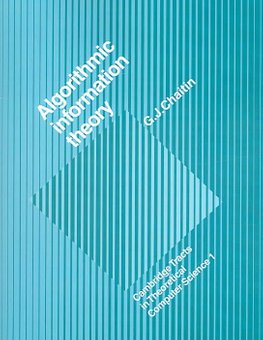 FREE delivery to United States in 9-17 working days

Order by 6th December for Christmas delivery to the United States
Short Description: Chaitin, the inventor of algorithmic information theory, presents in this book the strongest possible version of Gödel's incompleteness theorem, using an information theoretic... Read more
Product Description
Chaitin, the inventor of algorithmic information theory, presents in this book the strongest possible version of Gödel's incompleteness theorem, using an information theoretic approach based on the size of computer programs. One half of the book is concerned with studying the halting probability of a universal computer if its program is chosen by tossing a coin. The other half is concerned with encoding the halting probability as an algebraic equation in integers, a so-called exponential diophantine equation.
Cambridge Tracts in Theoretical Computer Science: Algorithmic Information Theory Series Number 1 Paperback edition by Gregory J. Chaitin
Product Details
Product Specification
Author

Series edited by

Series edited by

Series edited by

Series edited by

Series edited by

Series edited by

ISBN-13

9780521616041

Series

Format

Paperback,

Publisher

Publication date

Dec 2, 2004

Edition

Paperback.

Pages

192

Product dimensions

191 x 246 x 10mm

Weight

353g
Foreword; Preface; Figures; 1. Introduction; Part I. Formalisms for Computation: Register Machines, Exponential Diophantine Equations, and Pure LISP: 2. The arithmetization of register machines; 3. A version of Pure LISP; 4. The LISP interpreter EVAL; Part II. Program Size, Halting Probabilities, Randomness, and Metamathematics: 5. Conceptual development; 6. Program size; 7. Randomness; 8. Incompleteness; 9. Conclusion; Bibliography.
Categories
Non-Fiction Computing & IT Computer Science Mathematical Theory Of Computation
Non-Fiction Engineering, Technology & Mathematics Mathematics Mathematical Foundations Mathematical Logic