Authoritarian Politics in Turkey
: Elections, Resistance and the AKP
A Hardback edition by Bahar Baser and Ahmet Erdi Ozturk in English (Jul 19, 2017)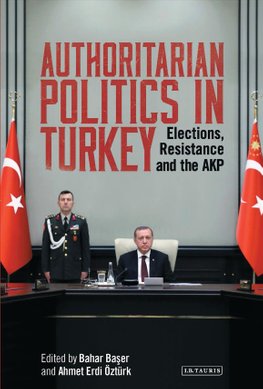 Short Description: President Erdogan's victory in the April 2017 referendum granted him sweeping new powers across Turkey. The constitutional reforms transform the country from a parliamentary... Read more
Product Description
President Erdogan's victory in the April 2017 referendum granted him sweeping new powers across Turkey. The constitutional reforms transform the country from a parliamentary democracy into a "Turkish style" presidential republic. Despite being democratically elected, Turkey's ruling AKP party has moved towards increasingly authoritarian measures. During the coup attempt in July 2016, the AKP government declared a state of emergency which Erdogan saw as an opportunity to purge the public sector of pro-Gulenist individuals and criminalise opposition groups including Kurds, Alevites, leftists and liberals. The country experienced political turmoil and rapid transformation as a result. This book identifies the process of democratic reversal in Turkey. In particular, contributors explore the various ways that a democratically elected political party has used elections to implement authoritarian measures. They scrutinise the very concepts of democracy, elections and autocracy to expose their flaws which can be manipulated to advantage.
The book includes chapters discussing the roots of authoritarianism in Turkey; the political economy of elections; the relationship between the political Islamic groups and the government; Turkish foreign policy; non-Muslim communities' attitudes towards the AKP; and Kurdish citizens' voting patterns. As well as following Turkey's political trajectory, this book contextualises Turkey in the wider literature on electoral and competitive authoritarianisms and explores the country's future options.
Authoritarian Politics in Turkey Hardback edition by Bahar Baser
Product Details
Product Specification
Author

Author

ISBN-13

9781784538002

Series

Format

Hardback,

Publishers

Publication date

Jul 19, 2017

Pages

288

Product dimensions

163 x 236 x 27mm

Weight

594g
Turkey in the Twenty-First Century: Bourgeois Revolution, Winners, and Losers
Hakan Y?lmaz
In Lieu of an Introduction: Is it Curtains for Turkish Democracy?
Bahar Ba?er and Ahmet Erdi OEzturk
2. How Did We Get Here? Turkey's Slow Shift to Authoritarianism
Onur Bak?ner
3. Electoral Integrity in Turkey: From Tutelary Democracy to Competitive Authoritarianism
Karabekir Akkoyunlu
4. Elections and Public Finance in Turkey: Public Spending as a Taciturn Election Campaign?
Taptuk Emre Erkoc and Abdulkadir Civan
5. Foreign Policy as a Legitimation Strategy for AKP's Hegemonic Project of "New Turkey"
Bezen Balamir Co?kun, Salih Do?an and Mustafa Demir
6. Power and Islam in Turkey: The relationship between the AKP and Sunni Islamic groups, 2002-2016
Emrah Celik
7. Turks as a minority: Effects of minority situation in electoral behaviour
Samim Akgoenul
8. Recasting the Parameters of Freedom of Religion in Turkey: Non-Muslims and the AKP
Anna Maria Beylunio?lu
9. Kurds and Elections Under the AK Party's Rule: Changing Internal and External Borders of the Kurdish Political Region
Cuma Cicek
10. Vanguards of violation: freedom of assembly and notes on the Turkish political regime
K?vanc Atak
11. Freedom of Information in Turkey: Death of the Free Press and the Case of Academics for Peace
Efe Kerem Soezeri
12. Digital cultural capital as a counter-hegemonic tool in Turkey
Da?han Irak
13. Epilogue: The Desire is There
??tar Goezayd?n
Categories
Non-Fiction Psychology & Social Science Society & Culture: General Social Groups Religious Groups: Social & Cultural Aspects Islamic Studies
Non-Fiction History, Politics & Philosophy Politics & Government Political Ideologies Liberalism & Centre Democratic Ideologies
Non-Fiction History, Politics & Philosophy Politics & Government Political Ideologies Conservatism & Right-of-centre Democratic Ideologies
Non-Fiction History, Politics & Philosophy Politics & Government Political Ideologies Fascism & Nazism
Non-Fiction History, Politics & Philosophy Politics & Government Political Structure & Processes
Non-Fiction History, Politics & Philosophy Politics & Government Political Structure & Processes Political Structures: Totalitarianism & Dictatorship
Non-Fiction Business, Finance & Law Business & Economics Economics Political Economy