Autobiographical Comics
A Paperback edition by Andrew J. Kunka in English (Nov 2, 2017)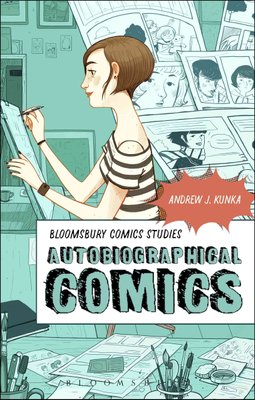 Short Description: A complete guide to the history, form and contexts of the genre, Autobiographical Comics helps readers explore the increasingly popular genre of graphic life writing. In an... Read more
Product Description
A complete guide to the history, form and contexts of the genre, Autobiographical Comics helps readers explore the increasingly popular genre of graphic life writing. In an accessible and easy-to-navigate format, the book covers such topics as:
· The history and rise of autobiographical comics
· Cultural contexts
· Key texts ? including Maus, Robert Crumb, Persepolis, Fun Home, and American Splendor
· Important theoretical and critical approaches to autobiographical comics
Autobiographical Comics includes a glossary of crucial critical terms, annotated guides to further reading and online resources and discussion questions to help students and readers develop their understanding of the genre and pursue independent study.
Autobiographical Comics Paperback edition by Andrew J. Kunka
Product Details
Product Specification
Author

ISBN-13

9781474227841

Series

Format

Paperback,

Publishers

Publication date

Nov 2, 2017

Pages

304

Product dimensions

143 x 216 x 22mm

Weight

390g
List of Figures
Acknowledgements
1. Introduction: What Are Autobiographical Comics?
2. The History of Autobiographical Comics
3. Critical Questions
4. Social and Cultural Impact
Trauma
Adolescence
The Quotidian and the Confessional
Gender and Sexuality
Race and Ethnicity
Graphic Medicine
Censorship and Controversy
Self-Publishing and Web Comics
5. Key Texts
Justin Green, Binky Brown Meets the Holy Virgin Mary
Robert Crumb and Aline Kominsky-Crumb
Harvey Pekar, et al, American Splendor
Keiji Nakazawa, Barefoot Gen: A Cartoon Story of Hiroshima
Art Spiegelman, Maus and In the Shadow of No Towers
Phoebe Gloeckner, A Child's Life and The Diary of a Teenage Girl
Joe Matt, Chester Brown, and Seth
Lynda Barry, One Hundred Demons
Craig Thompson, Blankets
Marjane Satrapi, Persepolis
Alison Bechdel, Fun Home
6. Appendix
Appendix 1: Autobiographical Comics Panel
Appendix 2: Interview with Jennifer Hayden
Appendix 3: David Chelsea
Appendix 4: Ryan Claytor
7. Glossary
8. Resources
Primary Texts
Critical Bibliography
9. Index
Categories
Non-Fiction Art, Creative & Style Art & Art History Industrial / Commercial Art Illustration & Commercial Art Comic Book & Cartoon Art