Battlefield Earth Audiobook (Unabridged)
Library Package
A CD-Audio edition by L Ron Hubbard in English (Jun 14, 2016)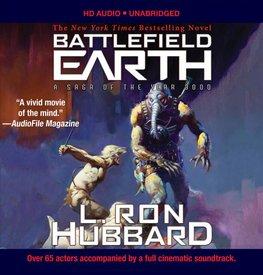 Short Description: Battlefield Earth is an enormous epic of adventure set in the year 3000, when the future survival of what's left of the human race is at stake. When Jonnie Goodboy Tyler decides to... Read more
Product Description
Battlefield Earth is an enormous epic of adventure set in the year 3000, when the future survival of what's left of the human race is at stake. When Jonnie Goodboy Tyler decides to venture out of the small and dwindling community of humans barely surviving in their Rocky Mountain retreat, he has no thought of challenging the order that for a thousand years has held the earth prisoner to the oppressive alien race of the Psychlos.
The Psychlos and their vast intergalactic mining corporation have dominated and exploited all known galaxies for centuries, ruthlessly destroying races who dare to resist. How one man?with the aid of a few surviving Scotsmen?tackles the greatest malignant power in the universe makes for a sprawling adventure of thrilling heroics, full of dangerous underground work, interplanetary wars, intergalactic financial intrigue, monster races, and complex political manipulation spread across a vast canvas of epic scale.
Experience the unabridged audiobook in fully immersive HD sound of the story that changed the shape of science fiction forever. Performed by over 65 actors playing 198 characters with 150,000 sound effects. "A vivid movie of the mind!"?AudioFile
The great SF author Robert Heinlein called Battlefield Earth "a masterpiece."
FREE POSTER OFFER
Enter your order confirmation at http://bit.ly/2bdycWn and you'll get a bonus gift of a full-color 24 x 36-inch poster of the stunning cover painting by Frank Frazetta, suitable for framing (value: $19.99)!
Battlefield Earth Audiobook (Unabridged) CD-Audio edition by L Ron Hubbard
Product Details
Product Specification
Author

Narrator

Performed by

Performed by

Performed by

Performed by

Performed by

Performed by

Performed by

ISBN-13

9781592123957

Format

CD-Audio, CD standard audio format

Publisher

Publication date

Jun 14, 2016

Edition

Unabridged

Product dimensions

140 x 168 x 89mm

Weight

1,111g
Categories