Battlefield Earth Audiobook (Unabridged)
Library Package
A CD-Audio edition by L Ron Hubbard in English (Jun 14, 2016)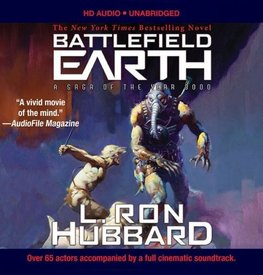 $61.65 + FREE delivery
RRP $64.99 You save $3.34 (5%)
Short Description: CAN HUMNANKIND OVERCOME THE ALIEN INVADERS WHO HAVE ENSLAVED US FOR OVER A THOUSAND YEARS?... Read more
Product Description
CAN HUMNANKIND OVERCOME THE ALIEN INVADERS WHO HAVE ENSLAVED US FOR OVER A THOUSAND YEARS?
Now from best-selling author L. Ron Hubbard, listed in the Guinness World Records as the most prolific author of audio books of all time, comes another ?vivid movie of the mind??the new unabridged audio book of his epic Science Fiction novel Battlefield Earth.
One of the most lavishly produced new audio books, featuring:47½ hours of pulse-pounding drama and action professionally recorded on 44 CDs with high-definition sound?one of the longest audio books on CD. A gorgeous cinematic soundtrack with full orchestral compositions plus more than 150,000 sound effects. A cast of more than 65 actors?many of whom are celebrity voices from TV, films, and games?performing 198 characters. AudioFile Earphones Award Winner?one of the best unabridged audio books of the year. Battlefield Earth is an epic science fiction saga of adventure, daring and courage, when man is an endangered species and the future survival of what's left of the human race is at stake.
In the year 3000, man has been savagely ruled for a thousand years by the Psychlos, a space-plundering race of nine-foot tall, highly intelligent, gas-breathing conquerors with razor sharp claws and superhuman strength. Earth has become a dystopian wasteland.
One of the Psychlos, the villainous Terl, enslaves a man-creature and forces him to mine Earth gold. Terl's plan: to teleport the gold to Psychlo, where he can then return wealthy beyond the dreams of avarice.
The slave emerges in the form of Jonnie Goodboy Tyler, a member of a dwindling community of human survivors hiding in the Rocky Mountains.
However, Jonnie has plans other than to make Terl wealthy?namely, to free mankind from alien tyranny?and cause the ultimate destruction of the Psychlo invaders.
But is Jonnie's fight to save humanity from these gigantic and technologically superior monsters a losing battle? Or will humans regain the Earth once more?
AudioBook Heaven says of the new Battlefield Earth unabridged audio book, ?It's like a full-blown feature film inside your head.?
Now, discover the fate of our world for yourself in L. Ron Hubbard's pulse-pounding audio drama Battlefield Earth: A Saga of the Year 3000!
Featured in Audible Audiobooks Five Star Favs
Audiobooks downloadable available
Publishers Weekly #1 Audio Books on CD Best Seller
Battlefield Earth Audiobook (Unabridged) CD-Audio edition by L Ron Hubbard