Berlioz Requiem
: Piano/Vocal Score Satb Edition with a Dedicated Alto Part to Meet the Needs of Contemporary Choruses
A Paperback edition by Hector Berlioz in English (Oct 10, 2015)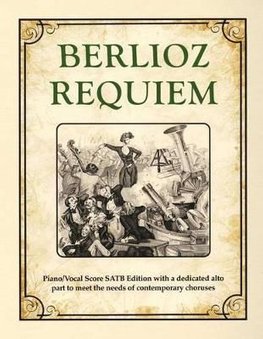 Sorry we don't currently have this.
Please click below and we will notify you when it is back in stock.
Short Description: Imagine trying to perform a choral work written for sopranos, tenors and basses with a chorus that has many more altos than tenors and basses. This is the situation facing many... Read more
Product Description
Imagine trying to perform a choral work written for sopranos, tenors and basses with a chorus that has many more altos than tenors and basses. This is the situation facing many conductors when they attempt perform the Berlioz Requiem. This new edition by Adrian G.Horn absolutely NAILS the solution by constructing a dedicated alto part out of the second soprano and first tenor parts. There is no need to run the risk of alienating your vital alto section with a set of complicated rehearsal instructions when this simple solution is at hand. In addition, Horn's score has been thoroughly tested and vetted by over 1,000 singers, plus conductors and accompanists, through seven successful performances.
Reviews and comments
Adrian Horn's new edition of the Berlioz Requiem was one of the most fortunate discoveries of my 40 years in choral music. A wizened colleague had already sent me a sly email -- ?What're you going to do with your altos?? -- when I started into the laborious chore of marking a score with arrows, squiggles and ?colla? signs. When the Horn edition emerged, I eyed it suspiciously at first. On what grounds was he an expert; why should I trust his choices? Close inspection showed a conscientious and principled approach, and so I got to know more about Horn and his long history with the piece. He started his singing career in a performance under Robert Shaw, and has been associated with more performances of this still-rare work than anybody I've known, short of Mr. Shaw! It was ultimately an elegant solution to a notoriously messy problem. The sound that resulted was excellent, and best of all, my altos always knew what line they were to read; I was spared the surliness of singers who are confused by makeshift changes in the score; I could concentrate on the sound of the music. That sound, I believe, was very close to what Berlioz had in mind.David Chase, La Jolla Symphony and Chorus
For accompanists in particular, Adrian Horn's edition is a quantum leap forward: legibility, musicality, clarity, and common sense abound. It is a thing of beauty, makes rehearsals and score-marking infinitely easier, and everyone should burn those wretched previous editions. Vicki Heins-Shaw, Accompanist, La Jolla Symphony Chorus
This edition is a welcome gift to choruses around the world. The reality is that choruses today are facing generational challenges and changing interests which have greatly affected membership. Therefore the music director is left with the hard decision of whether or not such great repertoire should be available to their singers and audiences. Though Berlioz obviously had a specific timbre in mind by not originally including altos, many composers are far more flexible than we are led to believe. I think if he were given the choice of having his great masterpiece languish in obscurity or enjoy greater appreciation from future generations, he would choose the latter? especially when approached in such a respectful and faithful way.Jung-Ho Pak, Cape Symphony
Adrian Horn's new edition of Berlioz's ?Requiem? is a modification whose time has come. In a period when there are many more women than men singing choral music, his edition makes performing the ?Requiem? possible by reassigning the existing voice parts, using S1/S2/A1 on top for the Soprano parts and distributes the A2's to the top of the split Tenor parts. This allocation permits the male tenors to sing strongly in the core of the sound and allows the A2's to float on the top of that clear texture. The edition also makes it possible for more regional and community ensembles to perform this landmark of the choral-orchestral repertoire. Dr. Lynne Morrow, Music Director, Oakland Symphony Chorus, Director, Vocal and Opera Theater Programs, Sonoma State University
"I'm surprised that no one has done it before."
William Weinert, Director of Choral Activities, Eastman School of Music
Berlioz Requiem Paperback edition by Adrian G Horn