Borror and DeLong's Introduction to the Study of Insects
A Hardback edition by Norman Johnson and Charles A. Triplehorn in English (May 19, 2004)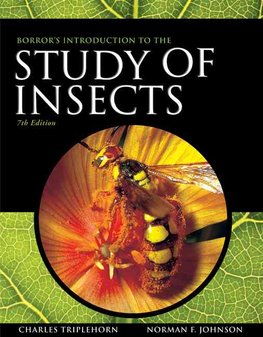 A$191.71 + FREE delivery
RRP A$353.14 You save A$161.43 (45%)
Get 10% off your second book with code: 10APR19 when buying 2 or more items

FREE delivery to Australia in 9-14 working days
Short Description: Understand the insect world with BORROR AND DELONG'S INTRODUCTION TO THE STUDY OF INSECTS! Combining current insect identification, insect biology, and insect evolution, this... Read more
Product Description
Understand the insect world with BORROR AND DELONG'S INTRODUCTION TO THE STUDY OF INSECTS! Combining current insect identification, insect biology, and insect evolution, this biology text provides you with a comprehensive introduction to the study of insects. Numerous figures, bullets, easily understood diagrams, and numbered lists throughout the text help you grasp the material.
Borror and DeLong's Introduction to the Study of Insects Hardback edition by Norman Johnson
Product Details
Product Specification
Author

Author

ISBN-13

9780030968358

Format

Hardback,

Publishers

Publication date

May 19, 2004

Edition

Edition Number 7; 7th edition

Pages

888

Product dimensions

208 x 263 x 33mm

Weight

1,568g
1. Insects and Their Ways.
2. The Anatomy, Physiology, and Development of Insects.
3. Systematics, Nomenclature, and Identification.
4. Behavior and Ecology.
5. Phylum Arthropoda.
6. Hexapoda.
7. The Entognathous Hexapods: Protura, Collembola, Diplura.
8. The Apterygote Insects: Microcoryphia and Thysanura.
9. Order Ephemeroptera: Mayflies.
10. Order Odonata: Dragonflies and Damselflies.
11. Order Orthoptera: Grasshoppers, Crickets, and Katydids.
12. Order Phasmatodea: Walkingsticks and Leaf Insects.
13. Order Grylloblattodea: Rockcrawlers.
14. Order Mantophasmatodea.
15. Order Dermaptera: Earwigs.
16. Order Plecoptera: Stoneflies.
17. Order Embiidina: Webspinners.
18. Order Zoraptera: Zorapterans, Angel Insects.
19. Order Isoptera: Termites.
20. Order Mantodea: Mantids.
21. Order Blattodea: Cockroaches.
22. Order Hemiptera: True Bugs, Cicadas, Hoppers, Psyllids, Whiteflies, Aphids, and Scale Insects.
23. Order Thysanoptera: Thrips.
24. Order Psocoptera: Psocids.
25. Order Phthiraptera: Lice.
26. Order Coleoptera: Beetles.
27. Order Neuroptera: Alderflies, Dobsonflies, Fishflies, Snakeflies, Lacewings, Antlions, and Owlflies.
28. Order Hymenoptera: Sawflies, Parasitic Wasps, Ants, Wasps, and Bees.
29. Order Trichoptera: Caddisflies.
30. Order Lepidoptera: Butterflies and Moths.
31. Order Siphonaptera: Fleas.
32. Order Mecoptera: Scorpionflies and Hangingflies.
33. Order Strepsiptera: Twisted-Winged Parasites.
34. Order Diptera: Flies.
35. Collecting, Preserving, and Studying Insects.
Categories
Non-Fiction Natural World Wildlife: General Interest Wildlife: Butterflies, Other Insects & Spiders