Bravest Warriors Vol. 8
A Paperback edition by Kate Leth and Pranas T. Naujokaitis in English (Jan 12, 2017)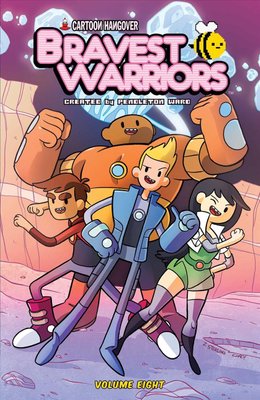 $13.99 + FREE delivery
RRP $14.99 You save $1.00 (6%)
Short Description: Summer Camp in Space!... Read more
Product Description
Summer Camp in Space!
The Bravest Warriors are off to summer camp! The gang has been going to Camp Tribulon for Little Warriors since they were kids, but when they return as counselors, they realize that battling monsters might be nothing compared to supervising a camp of rowdy children. Matters are only made worse when they learn that Catbug's evil brother Bugcat is up to his old tricks?this time with the help of an angry camper and an ancient monster. The Warriors will need to rally campers of every shape, size, and alien race, if they're to stop Bugcat and save all of Camp Tribulon.
Written by New York Times bestselling author Kate Leth (Adventure Time: Seeing Red, Patsy Walker A.K.A. Hellcat) and illustrated by Ian McGinty (Adventure Time, Munchkin), this volume also features short stories by Pranas Naujokaitis (Uncle Grandpa) detailing the Warriors' outrageous trip to the Planet of Fandom!
Bravest Warriors Vol. 8 Paperback edition by Kate Leth