Cambridge Greek and Latin Classics: Aeschylus: Eumenides
A Paperback edition by Aeschylus in English (Nov 9, 1989)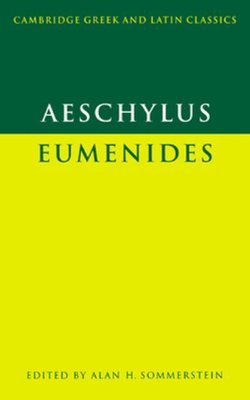 $43.44 + FREE delivery
RRP $45.99 You save $2.55 (5%)
Short Description: Sommerstein presents a freshly constituted text, with introduction and commentary, of Eumenides, the climactic play of the only surviving complete Greek tragic trilogy, the... Read more
Product Description
Sommerstein presents a freshly constituted text, with introduction and commentary, of Eumenides, the climactic play of the only surviving complete Greek tragic trilogy, the Oresteia of Aeschylus. Of all Athenian tragic dramas, Eumenides is most consciously designed to be relevant to the situation of the Athenian state at the time of its performance (458 B.C.) and seems to have contained daring innovations both in technique and in ideas. The introduction and commentary to this edition seek to bring out how Aeschylus shaped to his purpose the legends he inherited, and ended the tragic story of Agamemnon's family in a celebration of Athenian civic unity and justice. The commentary also pays attention to the linguistic, metrical and textual problems to be encountered by the reader.
Cambridge Greek and Latin Classics: Aeschylus: Eumenides Paperback edition by Aeschylus
Product Details
Product Specification
Author

Edited by

Series edited by

Series edited by

Series edited by

Series edited by

ISBN-13

9780521284301

Series

Format

Paperback,

Publisher

Publication date

Nov 9, 1989

Pages

324

Product dimensions

127 x 186 x 18mm

Weight

317g
Preface; References and abbreviations; Introduction; 1. The legend; 2. Erinyes, Eumenides and Semnai; 3. The Areopagus and homicide; 4. The life and work of Aeschylus; 5. Justice and the gods; 6. A play for its day; 7. Production; 8. The text; Sigla; Eumenides; Commentary; Appendix; Indexes.
Categories
Non-Fiction Language & Reference Language & ELT Literature & Literary Studies Prose: Non-fiction Literary Essays