Cambridge Handbooks in Psychology: The Cambridge Handbook of Expertise and Expert Performance
A Paperback edition by K. Anders Ericsson in English (May 17, 2018)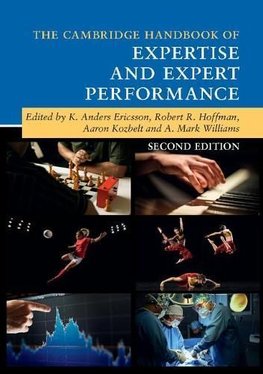 $47.31 + FREE delivery
RRP $56.99 You save $9.68 (16%)
Get 10% off your second book with code: 10APR19 when buying 2 or more items

FREE delivery to United States in 4-8 working days

Ready To Go

This book will leave our US warehouse within 1-2 working days.
Short Description: In this updated and expanded edition of The Cambridge Handbook of Expertise and Expert Performance, some of the world's foremost experts on expertise share their scientific... Read more
Product Description
In this updated and expanded edition of The Cambridge Handbook of Expertise and Expert Performance, some of the world's foremost experts on expertise share their scientific knowledge of expertise and expert performance and show how experts may differ from non-experts in terms of development, training, reasoning, knowledge, and social support. The book reviews innovative methods for measuring experts' knowledge and performance in relevant tasks. Sixteen major domains of expertise are covered, including sports, music, medicine, business, writing, and drawing, with leading researchers summarizing their knowledge about the structure and acquisition of expert skills and knowledge, and discussing future prospects. General issues that cut across most domains are reviewed in chapters on various aspects of expertise, such as general and practical intelligence, differences in brain activity, self-regulated learning, deliberate practice, aging, knowledge management, and creativity.
Cambridge Handbooks in Psychology: The Cambridge Handbook of Expertise and Expert Performance Paperback edition by K. Anders Ericsson
Product Details
Product Specification
Edited by

Edited by

Edited by

Edited by

ISBN-13

9781316502617

Series

Format

Paperback,

Publisher

Publication date

May 17, 2018

Edition

Edition Number 2; Revised

Pages

984

Product dimensions

174 x 247 x 45mm

Weight

1,604g
Part I. Introduction and Perspectives: 1. An introduction to the 2nd Edition of the Cambridge Handbook of Expertise and Expert Performance: its development, organization, and content; 2. A sociological/philosophical perspective on expertise: the acquisition of expertise through socialization; 3. Re-framing expertise and its development: a lifeworld perspective; 4. The evolution of expertise; 5. Expertise in other non-human animals: canines as an example; Part II. Overview of Approaches to the Study of Expertise: Brief Historical Accounts of Theories and Methods; 6. Studies of expertise from psychological perspectives: historical foundations and recurrent themes; 7. Expert systems: a perspective from computer science; 8. Developing occupational expertise through everyday work activities and interactions; 9. Professionalism, science, and expert roles: a social perspective; Part III. Methods for Studying the Structure of Expertise: 10. Perception in expertise; 11. Eliciting and representing the knowledge of experts; 12. Capturing expert thought with protocol analysis: concurrent verbalizations of thinking during experts' performance on representative tasks; 13. Methods for studying the structure of expertise: psychometric approaches; 14. Studies of the activation and structural changes of the brain associated with expertise; Part IV. Methods for Studying the Acquisition and Maintenance of Expertise: 15. Collecting and assessing practice activity data: concurrent, retrospective and longitudinal approaches; 16. Multidisciplinary longitudinal studies: a perspective from the field of sports; 17. Using cases to understand expert performance: method and methodological triangulation; 18. Historiometric methods; Part V. Domains of Expertise; Section 1. Professional Domains: 19. Expertise in medicine and surgery; 20. Expertise and transportation; 21. Expertise in professional design; 22. Toward deliberate practice in the development of entrepreneurial expertise: the anatomy of the effectual ask; 23. Professional writing expertise; 24. Expertise and expert performance in teaching; 25. Expert professional judgments and 'naturalistic decision making'; 26. Decision making skill: from intelligence to numeracy and expertise; 27. What makes an expert team? A decade of research; Section 2. Arts, Sports, Games and Other Types of Expertise: 28. Expertise in music; 29. Brain changes associated with acquisition of musical expertise; 30. Expertise in drawing; 31. Expertise in chess; 32. Mathematical expertise; 33. Expertise in L2 vocabulary; 34. Expertise in sport: specificity, plasticity and adaptability in high-performance athletes; Part VI. Generalizable Mechanisms Mediating Types of Expertise; 35. Superior anticipation; 36. Superior working memory in experts; 37. Expertise and situation awareness; Part VII. General Issues and Theoretical Frameworks; 38. The differential influence of experience, practice, and deliberate practice on the development of superior individual performance of experts; 39. Practical intelligence and tacit knowledge: an ecological view of expertise; 40. Cognitive load and expertise reversal; 41. Expertise and structured imagination in creative thinking: reconsideration of an old question; 42. Aging and expertise.
Categories
Non-Fiction Psychology & Social Science Psychology Psychological Theory
Non-Fiction Psychology & Social Science Psychology
Non-Fiction Psychology & Social Science Psychology Cognition & Cognitive Psychology
Non-Fiction Psychology & Social Science Psychology Social, Group Or Collective Psychology