Cambridge International IGCSE: Cambridge IGCSE (R) and O Level Business Studies Revised Cambridge Elevate Teacher's Resource Access Card
By Medi Houghton and Mark Fisher in English (Apr 26, 2018)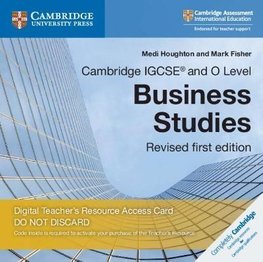 $78.45 + FREE delivery
RRP $83.75 You save $5.30 (6%)
Short Description: This revised set of resources for Cambridge IGCSE, IGCSE (9-1) and O Level Business Studies syllabuses (0450, 0986, 7115) is thoroughly updated for first examinations from 2020. ... Read more
Product Description
This revised set of resources for Cambridge IGCSE, IGCSE (9-1) and O Level Business Studies syllabuses (0450, 0986, 7115) is thoroughly updated for first examinations from 2020. This card gives you access to your digital teacher's resource on the Cambridge Elevate platform. Save time when planning and teaching with helpful lesson tips, worksheets and exam-style questions. This digital resource provides further guidance on syllabus and assessment to help you keep your lessons focused on the course goals. It also contains answers to all the questions, activities and case studies contained in the coursebook - plus answers to the Cambridge Elevate edition case studies - so you can mark quickly and confidently.
Cambridge International IGCSE: Cambridge IGCSE (R) and O Level Business Studies Revised Cambridge Elevate Teacher's Resource Access Card edition by Medi Houghton
Product Details
Product Specification
Author

Author

ISBN-13

9781108462563

Series

Publisher

Publication date

Apr 26, 2018

Edition

Teachers Guide

Interest Age

from 12 years

Product dimensions

160 x 160 x 1mm

Weight

20g
How to use this resource; Resource index; Introduction and planning documents; Resources by section; Section 1. Understanding business activity: 1. Business activity; 2. Classification of businesses; 3. Enterprise, business growth and size; 4. Types of business organisation; 5. Business objectives and stakeholder objectives; Answers to exam-style case studies; Section 2. People in business: 6. Motivating employees; 7. Organisation and management; 8. Recruitment, selection and training of employees; 9. Internal and external communication; Answers to exam-style case studies; Section 3. Marketing: 10 Marketing, competition and the customer; 11. Market research; 12. Marketing mix: product and price; 13. Marketing mix: place and promotion; 14. Marketing strategy; Answers to exam-style case studies; Section 4. Operations management: 15. Production of goods and services; 16. Costs, scale of production and break-even analysis; 17. Achieving quality production; 18. Location decisions; Answers to exam-style case studies; Section 5. Financial information and decisions: 19. Business finance: needs and sources; 20.Cash-flow forecasting and working capital; 21. Income statements; 22. Statement of financial position; 23. Analysis of accounts; Answers to exam-style case studies; Section 6. External influences on business activity: 24. Economic issues; 25. Environmental and ethical issues; 26. Business and the international economy; Answers to exam-style case studies; Exam-style practice questions: Short answer and data response; Case study.
Categories
Children's & Young Adult Non-Fiction
Education Teaching Resources By Subject
Education Teaching Resources By Subject Business Studies & Economics