Cambridge University - An 800th Anniversary Portrait
A Hardback edition by Peter Pagnamenta and Matt Wilson in English (Nov 1, 2008)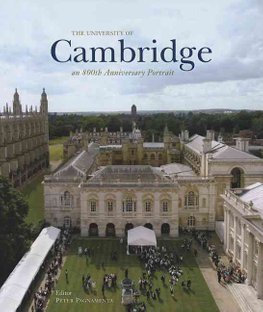 Short Description: Cambridge is one of the world's great universities, providing education, scholarship and research at the very highest level. Home to more Nobel laureates than any other... Read more
Product Description
Cambridge is one of the world's great universities, providing education, scholarship and research at the very highest level. Home to more Nobel laureates than any other institution, it attracts students and academics from across the globe and is internationally regarded as one of the major intellectual powerhouses extending the frontiers of knowledge.
To celebrate its 800th anniversary year, Third Millennium was honoured to have been chosen by the University of Cambridge to produce this special commemorative book.
Edited by Peter Pagnamenta, one of Britain's most distinguished documentary producers, this lavishly illustrated, beautifully designed and produced hardback volume traces the University's growth and development from its small beginnings to today's eminence and tomorrow's aspirations.
The book features expert, informative and entertaining contributions from leading Cambridge figures of every generation and offers a vibrant panorama of the past, present and future of a living community.
Themes and topics in the book: Foundation of the University, Growth of the Colleges, Philosophy and Classics, Humanities, Mathematics, Science and new disciplines, New directions in research, Opportunity and admissions, Architecture old and new, Libraries and museums, Drama and performance, Music and arts, Sporting achievements, Spiritual Cambridge, Remarkable personalities, University government and finance, and Future plans and revision.
Cambridge University - An 800th Anniversary Portrait Hardback edition by Peter Pagnamenta