Castagnaro 1387
: Hawkwood's Great Victory
A Paperback edition by Kelly DeVries and Niccolo Capponi in English (Jul 25, 2019)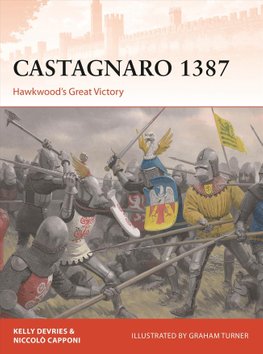 Available to pre-order.

Dispatched by July 25, 2019 with FREE delivery to United States
Short Description: A highly illustrated study of the medieval Italian battle of Castagnaro, the famous English condottiere captain Sir John Hawkwood's greatest victory.... Read more
Product Description
A highly illustrated study of the medieval Italian battle of Castagnaro, the famous English condottiere captain Sir John Hawkwood's greatest victory.
The battle of Castagnaro, fought on 11 March 1387 between the Veronese and the Paduans, was one of the few Italian medieval conflicts known in the English-speaking world thanks to the exploits of the renowned English mercenary (or condottiero) captain, Sir John Hawkwood. Commanding the Paduan army, he led them to a stunning victory.
This new study challenges the conventional story of the battle, relocating it to the other side of the Adige River, and showing that Hawkwood was no mere disciple of his previous commander, the Black Prince--he was a highly talented and intelligent general in his own right. Using specially commissioned full-color artwork, this fascinating book shows how Hawkwood used his own acumen, and the training, skills and discipline of his very experienced condottieri, to defeat his opponents at Castagnaro.
Castagnaro 1387 Paperback edition by Kelly DeVries