Chess and the Art of Enterprise Architecture
A Paperback edition by Gerben Wierda in English (Jan 1, 2015)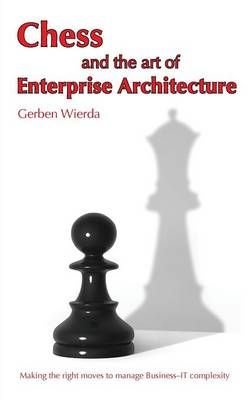 Short Description: Enterprise Architecture is the discipline of managing the complexities of the ... Read more
Product Description
Enterprise Architecture is the discipline of managing the complexities of the
Business-IT landscape. It has been around since the 1980's, when for the
first time computers were connected in networks, and the already serious (and
unsolved) problem of the complexity of computer programs for relatively simple
business needs turned into the huge problem of large networks of them in
complex business landscapes. In spite of many 'best practices' and
'frameworks' that have been introduced, Enterprise Architecture is not a
great success. After thirty years, we still have the same problems. Chaos is
still everywhere. Projects still fail far too often.
In this book, (hidden) assumptions behind the existing approaches to
enterprise architecture are challenged, and a more realistic perspective that
helps us battle the complexities and unpredictabilities of today's
Business-IT landscapes is described. Practical suggestions about enterprise
architecture governance and products, based on real-world experience with the
described approach, complete the book.
From general management to IT professionals, everyone who is confronted with
the problem of managing Business-IT landscapes can profit from the insights
this book offers. No specialist prior knowledge is required.
Gerben Wierda is author of Mastering ArchiMate, and was, amongst other things,
Lead Architect of the Judiciary in The Netherlands, Lead Architect of APG
Asset Management, and is now Team Coordinator Architecture & Design at APG. He
holds an M.Sc in Physics from the University of Groningen and an MBA from RSM
Erasmus, Rotterdam.
Chess and the Art of Enterprise Architecture Paperback edition by Gerben Wierda