CoderDojo Nano: Make Your Own Game
: Create with Code
A Paperback edition by Jurie Horneman and CoderDojo in English (Sep 7, 2017)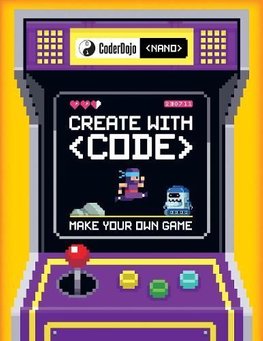 Sorry we don't currently have this.
Please click below and we will notify you when it is back in stock.
Short Description: CoderDojo Nano: Make Your Own Game teaches the fundamentals of the Javascript coding language in a simple, logical way to help kids reach their goal of creating their very own PC... Read more
Product Description
CoderDojo Nano: Make Your Own Game teaches the fundamentals of the Javascript coding language in a simple, logical way to help kids reach their goal of creating their very own PC game.
Children will learn everything from creating a game world, animating characters and determining the physics of movement within the game. Each concept is illustrated with a screenshot to make checking easy, and incredible pixel art from Army of Trolls makes this look like no other coding book.
Coder Dojo Nano: Make Your Own Game is the perfect first step that kids can take towards game development.
Look out for other titles in the CoderDojo Nano series:
CoderDojo Nano: Build Your Own Website
CoderDojo Nano: Make Your Own Game Paperback edition by Jurie Horneman