Corleone
: A Tale of Sicily (Classic Reprint)
A Paperback edition by F Marion Crawford (May 23, 2018)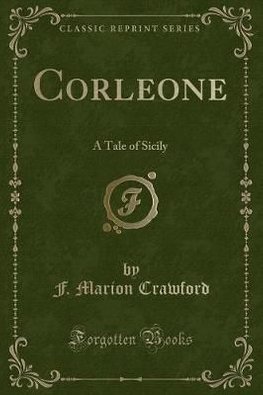 Short Description: Excerpt from Corleone: A Tale of Sicily ... Read more
Product Description
Excerpt from Corleone: A Tale of Sicily
'If you never mean to marry, you might as well turn priest, too, said Ippolito Saracinesca to his elder brother, Orsino, with a laugh.
'Why?' asked Orsino, without a smile. 'It would be as sensible to say that a man who had never seen some particular thing, about which he has heard much, might as well put out his eyes.'
The young priest laughed again, took up the cigar he had laid upon the edge of the piano, puffed at it till it burned freely, and then struck two or three chords of a modulation. A sheet of ruled paper on which several staves of music were roughly jotted down in pencil stood on the rack of the instrument.
Orsino stretched out his long legs, leaned back in his low chair, and stared at the old gilded rosettes in the square divisions of the carved ceiling. He was a discontented man, and knew it, which made his discontent a matter for self-reproach, especially as it was quite clear to him that the cause of it lay in himself.
He had made two great mistakes at the beginning of life, when barely of age, and though neither of them had ultimately produced any serious material consequences, they had affected his naturally melancholic temper and had brought out his inherited hardness of disposition. At the time of the great building speculations in Rome, several years earlier, he had foolishly involved himself with his father's old enemy, Ugo del Ferice, and had found himself at last altogether in the tatters power, though not in reality his debtor.
About the Publisher
Forgotten Books publishes hundreds of thousands of rare and classic books. Find more at www.forgottenbooks.com
This book is a reproduction of an important historical work. Forgotten Books uses state-of-the-art technology to digitally reconstruct the work, preserving the original format whilst repairing imperfections present in the aged copy. In rare cases, an imperfection in the original, such as a blemish or missing page, may be replicated in our edition. We do, however, repair the vast majority of imperfections successfully; any imperfections that remain are intentionally left to preserve the state of such historical works.
Corleone Paperback edition by F Marion Crawford