Corporate Investments in Common Stock (Classic Reprint)
A Paperback edition by Richard S Ruback (May 5, 2018)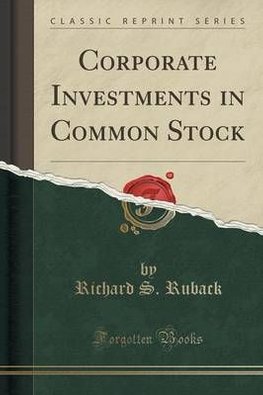 Short Description: Excerpt from Corporate Investments in Common Stock ... Read more
Product Description
Excerpt from Corporate Investments in Common Stock
This paper examines corporate acquisitions of another company's common stock that were reported to the Sec during the years 1978 through 1980. Common stock returns of both the acquiring and target firms are analyzed around the date of the earliest published report that an ownership position of 5% or more of the target firm's common stock has been or will be taken. In addition, common stock returns are examined around important events subsequent to the initial announcement date as well as around the final outcome of the investment. The stock returns at the initial announcement, the final outcome and the intervening events are summed to estimate the acquiring and target firms returns from the investment activity.
A great deal of research and public attention has been devoted in recent years to corporate acquisitions of common stock that are attempts to acquire control of another firm. We find, however, that purchases of common stock through tender offers and mergers represent a minority of corporate Investments in common stock. The expected payoffs for a majority of corporate investments appears to be the direct returns from security ownership, dividends and price appreciation, rather than cash flows or other benefits from exercising control over the activities of another firm. This study, therefore, broadens the view of corporate purchases of common stock, and examines a range of investment strategies and outcomes.
One objective of this study is to determine whether and how the acquiring and target firms stock prices respond to different types of corporate investments in common stock. The sizes of the initial investments range from a block of shares that transfers voting control to a 5% ownership position.
About the Publisher
Forgotten Books publishes hundreds of thousands of rare and classic books. Find more at www.forgottenbooks.com
This book is a reproduction of an important historical work. Forgotten Books uses state-of-the-art technology to digitally reconstruct the work, preserving the original format whilst repairing imperfections present in the aged copy. In rare cases, an imperfection in the original, such as a blemish or missing page, may be replicated in our edition. We do, however, repair the vast majority of imperfections successfully; any imperfections that remain are intentionally left to preserve the state of such historical works.
Corporate Investments in Common Stock (Classic Reprint) Paperback edition by Richard S Ruback