Critical Reflection in Health and Social Care
A Paperback edition by Sue White and Jan Fook in English (Jul 1, 2006)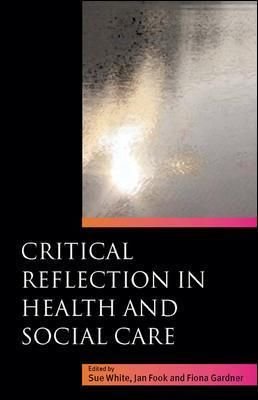 Short Description: "... the book makes an excellent contributionto the library of those keen to delve further intothe realm of critical reflection, understand variousinterpretations of... Read more
Product Description
"... the book makes an excellent contributionto the library of those keen to delve further intothe realm of critical reflection, understand variousinterpretations of interdisciplinary practices, anduse these to aid their own and others' professionalpractice, exploration and development."
Learning in Health and Social Care
How can professionals reflect critically on the aspects of their work they take for granted?
How can professionals practise with creativity, intelligence and compassion?
What current methods and frameworks are available to assist professionals to reflect critically on their practice?
The use of critical reflection in professional practice is becoming increasingly popular across the health professions as a way of ensuring ongoing scrutiny and improved concrete practice - skills transferable across a variety of settings in the health, social care and social work fields. This book showcases current work within the field of critical reflection throughout the world and across disciplines in health and social care as well as analyzing the literature in the field. Critical Reflection in Health and Social Care reflects the transformative potential of critical reflection and provides practitioners, students, educators and researchers with the key concepts and methods necessary to improve practice through effective critical reflection.Contributors: Gurid Aga Askeland, Andy Bilson, Fran Crawford, Jan Fook, Lynn Froggett , Sue Frost, Fiona Gardner, Jennifer Lehmann, Marceline Naudi, Bairbre Redmond, Gerhard Reimann, Colin Stuart, Pauline Sung-Chan, Carolyn Taylor, Susan White, Elizabeth Whitmore, Angelina Yuen-Tsang.
Critical Reflection in Health and Social Care Paperback edition by Sue White
Product Details
Product Specification
Author

Author

Author

ISBN-13

9780335218783

Series

Format

Paperback,

Publisher

Publication date

Jul 1, 2006

Edition

ed

Pages

288

Product dimensions

150 x 226 x 18mm

Weight

481g
ContributorsAcknowledgements
Preface
PART I: FRAMEWORKS FOR UNDERSTANDING CRITICAL REFLECTION
Chapter 1: Critical Reflection: A Review of Contemporary Literature and Understandings: Jan Fook, Susan White and Fiona Gardner
Chapter 2: Unsettling Reflections: The Reflexive Practitioner as `Trickster' in Inter-Professional Work: Susan White
Chapter 3: The `Critical' in Critical Reflection: Jan Fook and Gurid Aga Askeland
PART II: PROFESSIONAL LEARNING
Chapter 4: Reflections on Building a Reflective Practice Community in China: Pauline Sung-Chan and Angelina Yuen-Tsang
Chapter 5: Practising Reflexivity: Narrative, Reflection And The Moral Order: Carolyn Taylor
Chapter 6: Thinking with the body: artistic perception and critical reflection: Lynn Froggett
Chapter 7: Recasting individual practice through reflection on narratives: Sue Frost
Chapter 8: Disrupting Dominant Discourse: Critical Reflection and Code-switching in Maltese Social Work: Marceline Naudi
PART III: RESEARCH
Chapter 9: Rationalities, Reflection and Research: Andy Bilson
Chapter 10: Using Critical Reflection In Research And Evaluation: Fiona Gardner
Chapter 11: Using reflexivity in a research methods course: Bridging the gap between research and practice: Colin Stuart and Elizabeth Whitmore
Chapter 12: Research For And As Practice: Educating Practitioners In Inquiry Skills For Changing Cultural Contexts: Fran Crawford
PART IV: EDUCATION
Chapter 13: Ethnographers of their own Affairs: Gerhard Reimann
Chapter 14: Telling Stories ... And The Pursuit Of Critical Reflection: Jennifer Lehmann
Chapter 15: Starting As We Mean To Go On - Introducing Beginning Social Work Students to Reflective Practice: Bairbre Redmond
Chapter 16: Critical Reflection - Possibilities for Developing Effectiveness in Conditions of Uncertainty: Fiona Gardner, Jan Fook and Susan White
References
Author Index
Subject Index
Categories
Non-Fiction Psychology & Social Science Social Services & Criminology Social Welfare & Social Services