De Imperio
: An Extract 27-45
A Paperback edition by Cicero in English and Latin (Dec 19, 2013)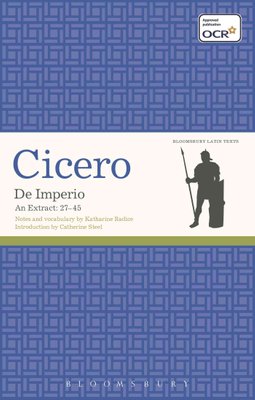 Short Description: De Imperio Cn. Pompeii (in support of Pompey), or Pro Lege Manilia, (in favour of the Manilian law) was Cicero's first speech on public affairs. Delivered in 66 AD when Cicero was... Read more
Product Description
De Imperio Cn. Pompeii (in support of Pompey), or Pro Lege Manilia, (in favour of the Manilian law) was Cicero's first speech on public affairs. Delivered in 66 AD when Cicero was praetor, he argued in support of a proposal from Manilius, the tribune at that time, to extend Pompey's command in the East and so take over the command in the war against Mithridates. The speech charts the moment when Cicero was transformed from lawyer to politician, but also effected a decision which led to Rome's success in the third Mithridatic War and her assertion of supremacy in the East.
This edition contains sections 27-45, where Cicero discusses how to choose a general, passionately advocating for a leader with the skills and expertise of Pompey. The introductory essay provides an overview of the historical and political context, and provides detail on the rhetorical and literary devices employed by Cicero in this speech. Detailed commentary notes accompanying the Latin text gloss difficult words and phrases, explain references to Cicero's contemporary politics, and highlight instances of oratorical usage.
This is the prescribed edition of the prose set text for OCR's AS GCE Classics Latin qualification, for examination from 2015 to 2017 inclusive.
De Imperio Paperback edition by Katharine Radice