Destination Weddings For Dummies
A Paperback edition by Susan Breslow Sardone in English (Aug 17, 2007)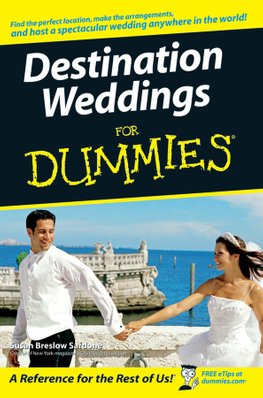 $15.95 + FREE delivery
RRP $19.99 You save $4.04 (20%)
Short Description: Want to have a wonderful wedding away from home? Destination Weddings For Dummies is your all-in-one guide to getting married out of town, giving you savvy tips on everything from... Read more
Product Description
Want to have a wonderful wedding away from home? Destination Weddings For Dummies is your all-in-one guide to getting married out of town, giving you savvy tips on everything from making travel arrangements to hiring vendors to dressing the wedding party.
Fron Vegas to the Vatican, this hands-on, practical resource helps you arrange a unique, unforgettable wedding anywhere in the world. Focusing on the various ways you can use the Internet in your planning, Destination Weddings For Dummies is filled with Web tips, shortcuts, and URLs, as well as instructions for creating your own digital wedding planner. You'll see how to establish a realistic wedding budget and get your friends and family on board. Then, you'll choose the perfect location; from Europe to the tropics to the open sea, we've done the scouting for you! You'll also discover how to:Get married legally around the worldKnow who, when, and how to inviteCreate your own destination wedding Web site and blogFit all the basics into your budget? from flowers and catering to the rings, photography, and musicHire wedding pros from a distanceDecide on your ceremony's styleDress the bride, groom, and the wedding partyCommunicate your plans to invited guestsCompare wedding packagesSave money on travel arrangementsTest-drive your destination wedding siteOrganize fun wedding activitiesHandle various wedding emergencies
If money is no object, you'll also see how to host a blowout wedding and make a splash when you splurge. Whether it's a small, intimate ceremony in a Hawaiian garden or a large gathering on a yacht in the Mediterranean, Destination Weddings For Dummies is all you need to get married anywhere you choose with ease and in style!
Destination Weddings For Dummies Paperback edition by Susan Breslow Sardone
Product Details
Product Specification
Author

ISBN-13

9780470129951

Series

Format

Paperback,

Publishers

Publication date

Aug 17, 2007

Pages

316

Product dimensions

165 x 236 x 17mm

Weight

371g
Introduction. Part I: Marrying Your Way: Away You Go. Chapter 1: Destination Weddings 101. Chapter 2: Is a Destination Wedding Right for You? Chapter 3: Organizing Your Wedding Away: With and Without a Computer. Chapter 4: Budgeting for a Destination Wedding. Chapter 5: Gathering Your Destination Wedding Team. Part II: Picking a Destination for Your Wedding. Chapter 6: Finding the Right Destination: There's a Place for You. Chapter 7: Staying Close to Home: The United States and Canada. Chapter 8: Heading to the Tropics and Islands. Chapter 9: Wowing and Vowing in Europe. Chapter 10: Cruising on a Love Boat. Part III: Getting the Destination Wedding You Want. Chapter 11: Making Travel Arrangements. Chapter 12: Before You Go: Putting Your Wedding Plans in Place. Chapter 13: Setting the Stage: Your Ceremony and Reception. Chapter 14: Dressing and Grooming for a Destination Wedding. Part IV: Sharing the Joy at Your Wedding, Now and Later. Chapter 15: After You Arrive: Leading Up to the Big Day. Chapter 16: Minding Your Manners: Destination Wedding Etiquette. Chapter 17: Making Friends and Family Feel As If They Were There. Chapter 18: Beginning the Honeymoon. Part V: The Part of Tens. Chapter 19: Ten Emergencies You May Face and How to Handle 'Em. Chapter 20: Ten Ways to Save Money on Your Destination Wedding. Index.
Categories
Non-Fiction Language & Reference Reference Encyclopaedias & Reference
Non-Fiction Health & Lifestyle Weddings, Wedding Planners