Dinosaurs
: A Concise Natural History
A Hardback edition by David E. Fastovsky and David B. Weishampel in English (Nov 28, 2016)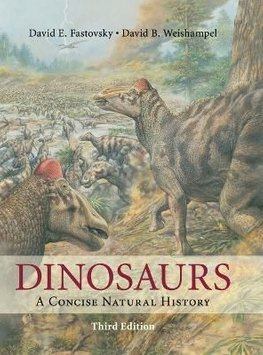 $149.95 + FREE delivery
RRP $182.00 You save $32.05 (17%)
Short Description: From the authors of The Evolution and Extinction of the Dinosaurs comes an introduction to the study of dinosaurs for non-specialists designed to excite readers about science by... Read more
Product Description
From the authors of The Evolution and Extinction of the Dinosaurs comes an introduction to the study of dinosaurs for non-specialists designed to excite readers about science by using dinosaurs to illustrate and discuss geology, natural history and evolution. While focusing on dinosaurs it also uses them to convey other aspects of the natural sciences, including fundamental concepts in evolutionary biology, physiology, life history, and systematics. Considerable attention is devoted the nature of science itself: what it is, what it is not, and how science can be used to investigate particular kinds of questions. Dinosaurs is unique because it fills a gap between the glossy, fact-driven dinosaur books and the higher-level academic books, addressing the paleontology of dinosaurs exactly as professionals in the field do.
Dinosaurs Hardback edition by David E. Fastovsky
Product Details
Product Specification
Author

Author

Illustrated by

ISBN-13

9781107135376

Format

Hardback,

Publisher

Publication date

Nov 28, 2016

Edition

Edition Number 3; Revised

Pages

432

Product dimensions

229 x 289 x 26mm

Weight

1,542g
Part I. Remembrance of Things Past: 1. To catch a dinosaur; 2. Dinosaur days; 3. Who's related to whom - and how do we know?; 4. Who are the dinosaurs?; 5. Dinosaurs: in the beginning; Part II. Saurischia: Meat, Might and Magnitude: 6. Theropoda I: nature red in tooth and claw; 7. Theropoda II: meet the theropods; 8. Theropoda III: the origin and early evolution of birds; 9. Sauropodomorpha: the big, the bizarre, and the majestic; Part III. Ornithischia: Armored, Horned, and Duck-Billed Dinosaur: 10. Thyreophorans: the armor-bearers; 11. Marginocephalia: bumps, bosses, and beaks; 12. Ornithopoda: mighty masticators of the Mesozoic; Part IV. Endothermy, Endemism, and Extinction: 13. Dinosaur thermoregulation: some like it hot; 14. The flowering of the Mesozoic; 15. A history of paleontology through ideas; 16. The Cretaceous-Tertiary extinction: the frill is gone; Glossary; Index of subjects; Index of genera.
Categories
Non-Fiction Science & Medicine Biology, Life Sciences Life Sciences: General Issues Evolution
Non-Fiction Science & Medicine Biology, Life Sciences Zoology & Animal Sciences
Non-Fiction Science & Medicine Biology, Life Sciences Zoology & Animal Sciences Zoology: Vertebrates
Non-Fiction Science & Medicine Earth Sciences, Geography, Environment, Planning Earth Sciences Palaeontology