Done Deal
A CD-Audio edition by Daniel Geey in English (Jun 4, 2019)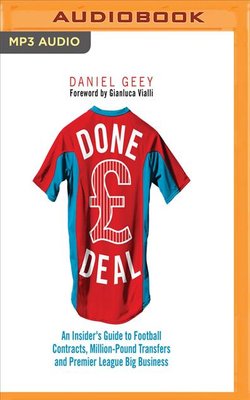 $14.24 + FREE delivery
RRP $14.99 You save $0.75 (5%)
Get 10% off your second book with code: 10APR19 when buying 2 or more items

Available to pre-order.

Dispatched by June 4, 2019 with FREE delivery to United States
Short Description: Whether it is a manager being sacked, the signing of a new star player, television rights, negotiations, extreme player misconduct or the million-pound club takeovers, lawyers... Read more
Product Description
Whether it is a manager being sacked, the signing of a new star player, television rights, negotiations, extreme player misconduct or the million-pound club takeovers, lawyers remain at the heart of all football business dealings. Written by leading Premier League lawyer Daniel Geey, who has dealt with all these incidents firsthand, this book explores the issues - from pitch to boardroom - that shape the modern game and how these impact leagues, clubs, players and fans.
Made up of more than 50 stand-alone essays, the book includes real-life club and player examples and insider anecdotes as well as high-impact features exploring the 'Ways a Player Can Engineer a Big Money Transfer', 'How Agents Tap-up Players' and 'How much would it cost to buy Lionel Messi?' The book draws on the author's considerable experience and feature contributions from leading journalists and Premier League footballers.
Not scared to explore the underbelly of football, the book covers areas such as bribes, player strikes, drug use, underhanded tactics and the way agents, clubs and players can manipulate the system. This highly accessible book will provide football fans with a clearer and entertaining understanding of all on- and off-field football matters.
Done Deal CD-Audio edition by Daniel Geey