Edexcel GCSE 9-1 Business All-in-One Revision and Practice
A Paperback edition by Collins GCSE in English (Aug 25, 2017)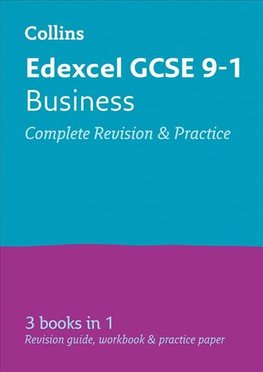 FREE delivery to United States in 6-12 working days

Ready To Go

This book will leave our UK warehouse within 1-2 working days.
Short Description: Exam Board: Edexcel... Read more
Product Description
Exam Board: Edexcel
Level: GCSE 9-1
Subject: Business
First Teaching: September 2017, First Exams: June 2019
Revision that Sticks! Collins Edexcel GCSE 9-1 Business Complete All-in-One Revision and Practice, uses a revision method that really works: repeated practice throughout.
A revision guide, workbook and practice paper in one book!
With clear and concise revision for every topic, plus seven practice opportunities, Collins offers the best revision at the best price.
Includes:
* quick tests as you go
* end-of-topic practice questions
* topic review questions later in the book
* mixed practice questions at the end of the book
* audio download to practice listening
* more topic-by-topic practice in the workbook
* a complete exam-style paper
* free Q&A flashcards to download online
* an ebook version of the revision guide
Edexcel GCSE 9-1 Business All-in-One Revision and Practice Paperback edition by Collins GCSE