Educational Management
: Redefining Theory, Policy and Practice
A Paperback edition by Tony Bush in English (Sep 8, 1999)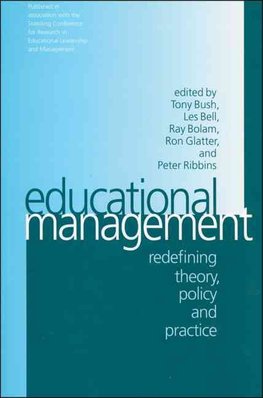 $51.93 + FREE delivery
RRP $60.00 You save $8.07 (13%)
Short Description: `A excellent companion to Theories of Educational Management by Tony Bush'... Read more
Product Description
`A excellent companion to Theories of Educational Management by Tony Bush'
`Researchers interested in various aspects of college leadership and management will find this book a convenient and scholarly introduction to related research in the school sector' - Further Education Development Agency, College Research Journal
Educational Management brings together important original contributions from leading thinkers in the field. Edited by some of the key figures in educational management today, chapters examine the following key areas: Has self-management achieved the success predicted for it?; What should be the nature of professional development for educational lea
Educational Management Paperback edition by Tony Bush
Product Details
Product Specification
Edited by

Edited by

Edited by

Edited by

Edited by

Edited by

ISBN-13

9780761965558

Format

Paperback,

Publisher

Publication date

Sep 8, 1999

Pages

256

Product dimensions

152 x 238 x 6mm

Weight

385g
Preface - Tony Bush et al
Introduction - Tony Bush
Setting the Scene
PART ONE: SCHOOLS AND SELF-MANAGEMENT - Ron Glatter
Modern Headship for the Rationally Managed School - Rosalind Levacic et al
Combining Cerebral and Insightful Approaches
Decentralization and Deregulation in Europe - Peter Karstanje
Towards a Conceptual Framework
Continuities and Changes in Primary Headship - Geoff Southworth
Primary Schools and the Nature of the Education Market Place - Les Bell
PART TWO: PROFESSIONAL DEVELOPMENT - Ray Bolam
Understanding Leadership - Peter Ribbins
Developing Headteachers
Stages of Headship - Dick Weindling
Promoting Continuing Professional Development for Teachers - Agnes McMahon
An Achievable Target for School Leaders?
Headteachers' Knowledge, Practice and Mode of Cognition - Michael Eraut
PART THREE: THEORY DEVELOPMENT - Peter Ribbins
Combining Cultural and Political Perspectives - Mike Wallace
The Best of Both Conceptual Worlds?
Institutional Transformation and Educational Management - Chris James
Gender and Education Management - Valerie Hall
Duel or Dialogue?
School Effectiveness and School Improvement - Janet Ouston
Critique of a Movement
Can Leadership Enhance School Effectiveness? - Philip Hallinger and Ronald Heck
PART FOUR: RESEARCH IN EDUCATIONAL MANAGEMENT - Les Bell
Educational Administration, Leadership and Management - Ray Bolam
Towards a Research Agenda
Overview of a Group of Research Projects with Relevance to School Management - Mike Wallace and Dick Weindling
Pedagogy, Educational Management and the TTA Research Agenda - Philippa Cordingley
Researching and Constructing Histories of the Field of Educational Management - Helen Gunter
Categories
Education Teaching Resources Organization & Management Of Education