Electromagnetic Geophysical Fields
: Precursors to Earthquakes and Tsunamis; Impacts on the Brain and Heart
A Hardback edition by Oleg Novik and Feodor Smirnov in English (May 10, 2019)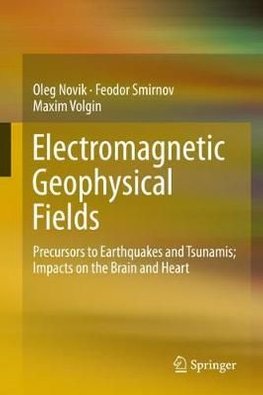 Available to pre-order.

Dispatched by May 10, 2019 with FREE delivery to United States
Short Description: This book develops the theory of electromagnetic (EM) precursors to seaquakes (i.e. underwater earthquakes) and tsunamis, including the sequential stages of the transformation of a... Read more
Product Description
This book develops the theory of electromagnetic (EM) precursors to seaquakes (i.e. underwater earthquakes) and tsunamis, including the sequential stages of the transformation of a weak seismic mechanical excitation of the sea bottom into EM signals in the atmosphere. It further examines the relationship between geophysics and biophysics, using appropriate mathematical support, and a new model of the magnetic location of the epicenter of a possible land earthquake is described, as well as a block-scheme of the multidisciplinary multilevel seaquake monitoring complex. Also discussed are measured changes of brain bioelectric activity and heart functioning under the influence of moderate geomagnetic storms.
Written for researchers and specialists (e.g. upper level undergraduates, postgraduates, scientists) in mathematical, computational, geophysical, biophysical, geodynamical, seismological and prognostic disciplines, this book provides multidisciplinary data and analytical tools supporting the theory and practice of seismic prognosis, promoting further understanding of novel marine and land monitoring systems.
Electromagnetic Geophysical Fields Hardback edition by Oleg Novik
Product Details
Product Specification
Author

Author

Author

ISBN-13

9783319984605

Format

Hardback,

Publisher

Publication date

May 10, 2019

Edition

1st ed. 2019

Pages

225

Product dimensions

155 x 235mm

Weight

522g
Acknowledgements.- Introduction: Low-frequency electromagnetic (EM) signals of dangerous dynamical processes in the geospheres including the noosphere.- Part I: SEISMO-HYDRO-ELECTROMAGNETICS.- Chapter 1. Calculations of low-frequency seismo-EM and seismo-thermal fields in the media with low-resistivity structures (LRS).- Chapter 2. Theory of magnetic location of the epicenter area of a possible earthquake.- Chapter 3. EM signals of seismic activation of geological structures under the bottom of a marginal sea.- Results, practical recommendations, and discussion.- Part II: INFLUENCE OF GEOMAGNETIC STORMS ON THE HUMAN BRAIN AND HEART.- Introduction: We are investigators of geophysical fields, but we are under their influence (to measure connection of a human brain with Cosmos).- Chapter 1. Space weather.- Chapter 2. Elements of statistics of time series of signals; the coherence function.- Chapter 3. Preliminary information regarding measurements of influence of geomagnetic storms on the human brain's bioelectric activity.- Chapter 4. Space weather influence on the human brain's bioelectric activity.- Chapter 5. Analysis of electrocardiograms (ECG) in parallel with electroencephalograms (EEG) by the same factors of meteo and space weather.- Results, practical recommendations, and discussion.- Part III: SEISMO-HYDRO-ELECTROMAGNETICS: MATHEMATICAL BACKGROUND.- Introduction.- Chapter 1. String-diffusion systems of equations (SDSE) of interaction of mechanic, electromagnetic (EM), and thermal geophysical fields.- Chapter 2. Numerical stability of the discretized initial-boundary value problems of SDSE.- Chapter3. A model description of running waves (rw) on water.- Discussion.- Conclusion.- Index.
Categories
Non-Fiction Engineering, Technology & Mathematics Environmental Science & Tech
Non-Fiction Science & Medicine Medicine Pre-clinical Basic Sciences Physiology
Non-Fiction Engineering, Technology & Mathematics Mathematics Applied Mathematics Mathematical Modelling
Non-Fiction Science & Medicine Physics Applied Physics Medical Physics
Non-Fiction Science & Medicine Physics Applied Physics Geophysics
Non-Fiction Science & Medicine Physics Applied Physics Biophysics
Non-Fiction Science & Medicine Earth Sciences, Geography, Environment, Planning Earth Sciences Geology & The Lithosphere
Non-Fiction Science & Medicine Earth Sciences, Geography, Environment, Planning Earth Sciences Volcanology & Seismology