Energy Economics
: Concepts, Issues, Markets and Governance
A Hardback edition by Subhes C. Bhattacharyya in English (Mar 7, 2011)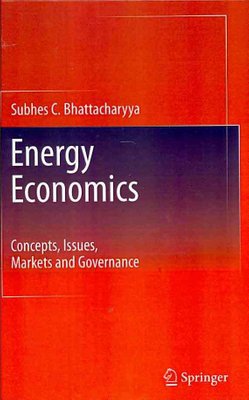 Short Description: Since its modest beginning in the 1970s, the academic and research focus on energy has grown substantially and energy has established itself as an independent, interdisciplinary... Read more
Product Description
Since its modest beginning in the 1970s, the academic and research focus on energy has grown substantially and energy has established itself as an independent, interdisciplinary subject area. It attracts attention from people in a range of different fields including engineers, scientists, geologists, environmentalists, bankers, investors, policy makers and politicians. Energy Economics introduces the basic concepts of energy economics and explains how simple economic tools can be used to analyse contemporary energy issues.
Energy Economics is organised into six parts that give the reader a thorough grounding in various key aspects of the subject:
basic demand-related concepts and ideas used in energy economics; supply-side economics;energy markets, with specific emphasis on oil, gas and coal;the application of simple economic principles in analysing contemporary energy issues;environmental aspects of energy use; andregulatory and governance issues. Energy Economics is an easily accessible reference book for students of energy economics at the postgraduate level, as well as for a wider interdisciplinary audience. It provides readers with the skills required to understand and analyse complex energy issues from an economic perspective.
Energy Economics Hardback edition by Subhes C. Bhattacharyya
Product Details
Product Specification
Author

ISBN-13

9780857292674

Format

Hardback,

Publisher

Publication date

Mar 7, 2011

Pages

721

Product dimensions

164 x 243 x 43mm

Weight

1,252g
1. Introduction to Energy Economics.- 2. Energy Data and Energy Balance.- 3. Understanding and Analysing Energy Demand.- 4. Energy Demand Analysis at a Disaggregated Level.- 5. Energy Demand Forecasting.- 6. Energy Demand Management.- 7. Economic Analysis of Energy Investments.- 8. Economics of Fossil Fuel Supply.- 9. Economics of Non-renewable Resource Supply.- 10. Economics of Electricity Supply.- 11. The Economics of Renewable Energy Supply.- 12. Energy Markets and Principles of Energy Pricing.- 13. Energy Pricing and Taxation.- 14. International Oil Market.- 15. Markets for Natural Gas.- 16. Developments in the Coal Market.- 17. Integrated Analysis of Energy Systems.- 18. Overview of Global Energy Challenges.- 19. Impact of High Energy Prices.- 20. Energy Security Issues.- 21. Investment Issues in the Energy Sector.- 22. Energy Access.- 23. The Economics of Environment Protection.- 24. Pollution Control from Stationary Sources.- 25. Pollution Control from Mobile Sources.- 26. The Economics of Climate Change.- 27. The Clean Development Mechanism.- 28. Regulation of Energy Industries.- 29. Reform of the Energy Industry.
Categories
Non-Fiction Engineering, Technology & Mathematics Technology: General Issues Engineering: General
Non-Fiction Engineering, Technology & Mathematics Energy Technology & Engineering Alternative & Renewable Energy Sources & Technology
Non-Fiction Business, Finance & Law Business & Economics Economics Economics Of Industrial Organisation
Non-Fiction Business, Finance & Law Business & Economics Business & Management Management & Management Techniques Management Of Specific Areas
Non-Fiction Business, Finance & Law Business & Economics Business & Management Management & Management Techniques Management Of Specific Areas Production & Quality Control Management
Non-Fiction Business, Finance & Law Business & Economics Business & Management Organizational Theory & Behaviour
Non-Fiction Business, Finance & Law Business & Economics Industry & Industrial Studies Energy Industries & Utilities
Non-Fiction Engineering, Technology & Mathematics Energy Technology & Engineering
Non-Fiction Engineering, Technology & Mathematics Energy Technology & Engineering Electrical Engineering