English in Europe
: The Acquisition of a Third Language
A Hardback edition by Jasone Cenoz in English (Apr 18, 2000)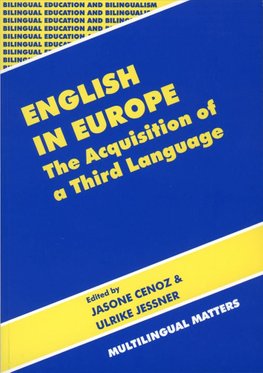 $102.97 + FREE delivery
RRP $129.95 You save $26.98 (20%)
Short Description: This book emerges as a response to the increasing use of English as a lingua franca in the multilingual European context. It provides an up-to-date overview of the sociolinguistic,... Read more
Product Description
This book emerges as a response to the increasing use of English as a lingua franca in the multilingual European context. It provides an up-to-date overview of the sociolinguistic, psycholinguistic and educational aspects of research on third language acquisition by focusing on English as a third language.
English in Europe Hardback edition by Jasone Cenoz
Product Details
Product Specification
Edited by

Edited by

ISBN-13

9781853594809

Series

Format

Hardback,

Publishers

Publication date

Apr 18, 2000

Pages

288

Product dimensions

133 x 210 x 21mm

Weight

476g
Introduction, Jasone Cenoz and Ulriek Jessner. Part I English in contact with other languages in the European context - sociolinguistic perspective: the spread of English and the growth of multilingualism with English in Europe, Charlotte Hoffman; English as a European lingua franca, Allan R. James. Part II Issues in third language acquisition: research on multilingual acquisition, Jasone Cenoz; putting language proficiency in its place - responding to critiques of the conversational/academic language distinction, Jim Cummins; the dynamics of third language acquisition, Philip Herdina and Ulrike Jessner. Part III Psycholinguistics perspectives: metaphorical competence in trilingual langauge production, Istvan Kecskes and Tunde Papp; word-fragment completions in the second (German) and Third (English) language, Ute Schonpflug; towards the construction of a theory of crosslinguistic transfer, Christine Bouvy. Part IV Educational perspectives: bilingualism and trilingualism in school students in Catalonia, Carmen Munoz; three languages and three linguistic models in the Basque educational system, David Lasagabaster; the role of English as L3 in a Swedish immersion program in Finland, Siv Bjorklund and Irmeli Suni; trilingual primary education in Friesland, Jehannes Ytsma; teaching English to bilingual pupils in Romania, Tatiana Iactu. Conclusion - expanding the scope, Ulrike Jessner and Jasone Cenoz.
Categories
Non-Fiction Language & Reference Language & ELT Linguistics Sociolinguistics
Non-Fiction Language & Reference Language & ELT Linguistics Psycholinguistics Language Acquisition
Non-Fiction Language & Reference Language & ELT Linguistics Psycholinguistics Bilingualism & Multilingualism
Non-Fiction Language & Reference Language & ELT Language Teaching & Learning