Feynman
A Paperback edition by Jim Ottaviani in English (May 13, 2013)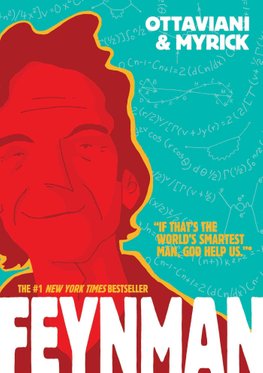 FREE delivery to United States in 6-12 working days

Ready To Go

This book will leave our UK warehouse within 1-2 working days.
Short Description: A NEW YORK TIMES BESTSELLER... Read more
Product Description
A NEW YORK TIMES BESTSELLER
Richard Feynman: physicist . . . Nobel winner . . . bestselling author . . . safe-cracker.
In this substantial graphic novel biography, First Second presents the larger-than-life exploits of Nobel-winning quantum physicist, adventurer, musician, world-class raconteur, and one of the greatest minds of the twentieth century: Richard Feynman. Written by nonfiction comics mainstay Jim Ottaviani and brilliantly illustrated by First Second author Leland Myrick, Feynman tells the story of the great man's life from his childhood in Long Island to his work on the Manhattan Project and the Challenger disaster. Ottaviani tackles the bad with the good, leaving the reader delighted by Feynman's exuberant life and staggered at the loss humanity suffered with his death.
Anyone who ever wanted to know more about Richard P. Feynman, quantum electrodynamics, the fine art of the bongo drums, the outrageously obscure nation of Tuva, or the development and popularization of the field of physics in the United States need look no further than this rich and joyful work.
One of School Library Journal's Best Adult Books 4 Teens titles of 2011
One of Horn Book's Best Nonfiction Books of 2011
Feynman Paperback edition by Jim Ottaviani