Film and Comic Books
A Paperback edition by Ian Gordon in English (Apr 1, 2007)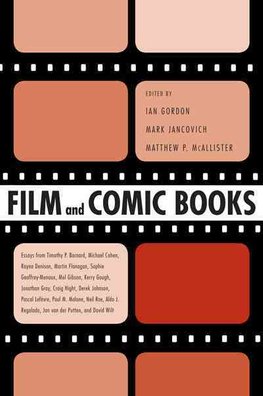 Short Description: In Film and Comic Books contributors analyze the problems of adapting one medium to another; the translation of comics aesthetics into film; audience expectations, reception, and... Read more
Product Description
In Film and Comic Books contributors analyze the problems of adapting one medium to another; the translation of comics aesthetics into film; audience expectations, reception, and reaction to comic book-based films; and the adaptation of films into comics.
A wide range of comic/film adaptations are explored, including superheroes (Spider-Man), comic strips (Dick Tracy), realist and autobiographical comics (American Splendor,Ghost World), and photo-montage comics (Mexico's El Santo).
Essayists discuss films beginning with the 1978 Superman. That success led filmmakers to adapt a multitude of comic books for the screen including Marvel'sUncanny X-Men, the Amazing Spider-Man, Blade, and the Incredible Hulk as well as alternative graphic novels such asFrom Hell, V for Vendetta, and Road to Perdition.
Essayists also discuss recent works from Mexico, France, Germany, and Malaysia.
Essays from Timothy P. Barnard, Michael Cohen, Rayna Denison, Martin Flanagan, Sophie Geoffroy-Menoux, Mel Gibson, Kerry Gough, Jonathan Gray, Craig Hight, Derek Johnson, Pascal Lef?vre, Paul M. Malone, Neil Rae, Aldo J. Regalado, Jan van der Putten, and David Wilt
Ian Gordon is associate professor of history and convenor of American studies at the National University of Singapore. Mark Jancovich is professor of film and television studies at the University of East Anglia. Matthew P. McAllister is associate professor of film, video, and media studies at Pennsylvania State University.
Film and Comic Books Paperback edition by Ian Gordon