Fixed Income Attribution
A Hardback edition by Andrew Colin in English (Jan 21, 2005)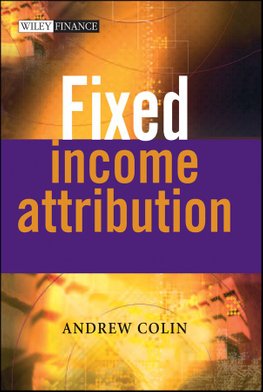 Short Description: Fixed income attribution is by its very nature a complex and mathematically demanding topic, and there is little information available on this area. Fixed Income Attribution has... Read more
Product Description
Fixed income attribution is by its very nature a complex and mathematically demanding topic, and there is little information available on this area. Fixed Income Attribution has been written to fill this tremendous void. This comprehensive resource contains both theoretical and practical information about running and understanding fixed income attribution, including the mathematics of attribution, practical limitations, benchmarks, presentation tools, and choosing and running an attribution system. Filled with insightful examples and expert advice, Fixed Income Attribution is the perfect source of information for those working in this complex environment.
Fixed Income Attribution Hardback edition by Andrew Colin
Product Details
Product Specification
Author

ISBN-13

9780470011751

Series

Format

Hardback,

Publishers

Publication date

Jan 21, 2005

Pages

162

Product dimensions

181 x 252 x 14mm

Weight

453g
Preface. Acknowledgements. A Note on Notation. PART I: CONCEPTS OF ATTRIBUTION. 1. Attribution in the Investment Process. 2. Calculation of Returns. 3. Simple Attribution. 4. Yield Curves in Attribution. 5. Interest Rate Risk and Portfolio Management. 6. Measuring Changes in Yield Curves. 7. Converting Yield Movements into Performance. PART II: SOURCES OF ATTRIBUTION RETURN. 8. The Hierarchy of Fixed Income Returns. 9. Yield Return and Coupon Return. 10. Treasury Curve Return. 11. Roll Return. 12. Credit Return. 13. Optionality Return. 14. Asset Allocation Return. 15. Other Sources of Return. 16. Worked Examples. PART III: FIXED INCOME ATTRIBUTION IN PRACTICE. 17. Implementing an Attribution System. 18. Fixed Income Benchmarks. 19. Presenting Attribution Results. 20. Beyond Fixed Income Attribution. Appendix A: Derivation of the Normal Equations for a Least Squares Fit. References. Index.
Categories
Non-Fiction Business, Finance & Law Business & Economics Finance & Accounting
Non-Fiction Business, Finance & Law Business & Economics Finance & Accounting Finance Investment & Securities