Fixed Income Attribution
A Hardback edition by Andrew Colin in English (Jan 21, 2005)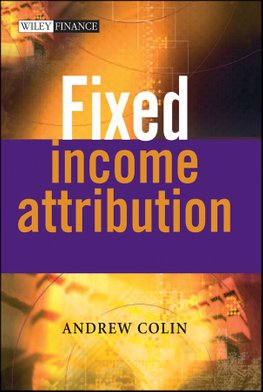 Short Description: Fixed income attribution is by its very nature a complex and mathematically demanding topic, and there is little information available on this area. ... Read more
Product Description
Fixed income attribution is by its very nature a complex and mathematically demanding topic, and there is little information available on this area.
Fixed Income Attribution has been written to fill this tremendous void. This comprehensive resource contains both theoretical and practical information about running and understanding fixed income attribution, including the mathematics of attribution, practical limitations, benchmarks, presentation tools, and choosing and running an attribution system. Filled with insightful examples and expert advice,
Fixed Income Attribution is the perfect source of information for those working in this complex environment.
Fixed Income Attribution Hardback edition by Andrew Colin
Product Details
Product Specification
Author

ISBN-13

9780470011751

Series

Format

Hardback,

Publishers

Publication date

Jan 21, 2005

Pages

162

Product dimensions

181 x 252 x 14mm

Weight

453g
Preface xiii
Acknowledgements xv
A Note on Notation xvii
PART I: CONCEPTS OF ATTRIBUTION 1
1 Attribution in the Investment Process 3
1.1 Introduction 3
1.2 The problem 3
1.3 Adding value to portfolios 4
1.4 Skill in investment 5
1.5 Picking the good from the bad 5
1.6 Insight from attribution 6
1.7 Example 7
1.8 Living without attribution 8
1.9 Why is attribution difficult? 9
1.10 What does this book not cover? 9
1.11 What are we aiming for? 9
2 Calculation of Returns 11
2.1 Introduction 11
2.2 Getting it right 11
2.3 Rate of return 12
2.4 Linking performance over multiple intervals 12
2.5 Performance of single securities in the presence of cash flows 12
2.6 Performance of portfolios without cash flows 13
2.7 Performance of portfolios with cash flows 13
2.8 Portfolio cash flow assumptions 14
2.9 Example 1 15
2.10 Performance contribution 16
2.11 Bringing it all together 16
2.12 The effects of futures on performance 17
2.13 Short position 17
2.14 Example 2: Some unusual asset allocations 17
2.15 Example 3: A pathological case 18
2.16 Example 4: A portfolio with zero market value 19
2.17 Geometric compounding 19
2.18 Performance from several sources of return 20
3 Simple Attribution 23
3.1 Introduction 23
3.2 Equity attribution 23
3.3 Additive attribution 24
3.4 Basic attribution: top-down or bottom-up? 25
3.5 Which assumptions to use? 26
3.6 Example 27
3.7 Attribution at the sector level 28
3.8 Attribution for single stocks 29
3.9 Combining attribution returns over time 31
3.10 Self-consistency across time 32
3.11 Summary 33
4 Yield Curves in Attribution 35
4.1 Introduction 35
4.2 Yield curves 35
4.3 What is a yield curve? 36
4.4 Why yield curves matter in attribution 36
4.5 Different types of yield 37
4.6 Zero-coupon yield 38
4.7 Sovereign and credit curves 38
4.8 What should a curve look like? 38
4.9 Different types of curve advantages and disadvantages 39
4.10 Comparing different curve types 40
4.11 How do yield curves behave? 40
4.12 Credit curves 43
4.13 Finding yield curve data 43
5 Interest Rate Risk and Portfolio Management 45
5.1 Introduction 45
5.2 Return in fixed income portfolios 45
5.3 Risk numbers and interest rate sensitivity 45
5.4 Aggregating risk numbers 46
5.5 Hedging risk 47
5.6 Portfolio structure 47
5.7 Risk immunization 48
6 Measuring Changes in Yield Curves 51
6.1 Introduction 51
6.2 Curve shapes 51
6.3 Curves the raw data 51
6.4 A typical curve movement 51
6.5 Describing curve changes 53
6.5.1 Should one go any further? 55
6.5.2 Can one use other movement descriptions? 55
6.6 Worked examples 55
6.7 Model-free representations of curves 56
6.8 Fitted model representations 57
6.9 Shift and curve positioning analysis 57
6.10 Polynomial term structure models 58
6.10.1 Example 1: Worked example for polynomial model 59
6.11 Nelson Siegel term structure models 60
6.12 Principal component analysis 63
6.13 Fitting data to models 64
6.14 Constraints in curve fitting 64
7 Converting Yield Movements into Performance 65
7.1 Pricing from first principles 65
7.2 Measuring the effects of yield curve shifts 66
7.3 Perturbational pricing 67
PART II: SOURCES OF ATTRIBUTION RETURN 71
8 The Hierarchy of Fixed Income Returns 73
8.1 Subjectivity in attribution 73
8.2 Excess precision 73
9 Yield Return and Coupon Return 75
9.1 Yield return 75
9.2 Decomposition into coupon and convergence return 75
9.3 Coupon return 75
9.4 Convergence return 76
9.5 Decomposition into systematic and specific return 76
9.6 Calculating yield return 77
10 Treasury Curve Return 79
10.1 Movements in the Treasury curve 79
10.2 No curve analysis 79
10.3 Shift/twist/butterfly 79
10.4 Duration attribution 80
11 Roll Return 83
11.1 Introduction 83
11.2 Maximizing roll return 83
11.3 Measuring roll return 84
11.4 Measuring the effect of roll 85
11.5 Separating roll return from yield curve return 85
12 Credit Return 87
12.1 Introduction 87
12.2 Credit spread and security-specific return 87
12.3 Curves and securities 88
12.4 Fine structure credit curve movement 88
12.5 Different types of credit attribution 89
12.6 Swap curve attribution 89
12.7 Credit curve attribution 89
12.8 Sector curve attribution 92
12.9 Country attribution 93
13 Optionality Return 95
14 Asset Allocation Return 97
14.1 Case 1 97
14.2 Case 2 98
14.3 Case 3 98
15 Other Sources of Return 101
15.1 Convexity return 101
15.2 Liquidity (security-specific) return 101
15.3 Trading and price return 102
15.4 Residual return 103
16 Worked Examples 105
16.1 Example 1: Yield return and term structure return 105
16.1.1 Decomposing returns 106
16.2 Example 2: Yield return and detailed term structure return 106
PART III: FIXED INCOME ATTRIBUTION IN PRACTICE 109
17 Implementing an Attribution System 111
17.1 Build or buy? 111
17.2 Match to existing investment process 111
17.3 Can the attribution approach be extended? 111
17.4 Performance calculation engine 111
17.5 Integration with other systems 112
17.6 Benchmark and data issues 112
17.7 Reporting 112
17.8 IT requirements 113
17.9 Cost 113
17.10 Time 113
17.11 Management support 113
17.12 Intellectual capital 113
17.13 Interface to legacy systems 114
17.14 User expectations 114
17.15 In general . . . 114
18 Fixed Income Benchmarks 115
18.1 Introduction 115
18.2 Benchmark replication 116
18.3 Availability of data 117
18.4 Replicating benchmark returns from data 118
18.5 Treatment of cash 119
19 Presenting Attribution Results 121
19.1 Introduction 121
19.2 Reporting formats 121
19.3 Presenting numerical data 122
19.4 Presenting graphical data 126
19.5 Report design 131
20 Beyond Fixed Income Attribution 133
20.1 Fixed income attribution in the investment process 133
20.2 Conclusion 136
AppendixA Derivation of the Normal Equations for a Least Squares Fit 137
A.1 Polynomial functions 137
A.2 Nelson Siegel functions 137
References 139
Index 141
Categories
Non-Fiction Business, Finance & Law Business & Economics Finance & Accounting
Non-Fiction Business, Finance & Law Business & Economics Finance & Accounting Finance Investment & Securities