Foundations of Economics
: A Beginner's Companion
A Hardback edition by Yanis Varoufakis in English (May 7, 1998)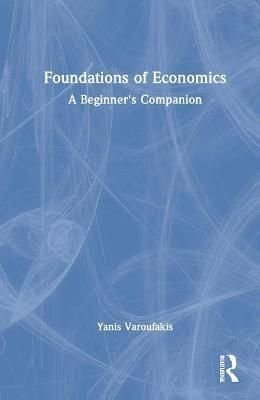 $224.68 + FREE delivery
RRP $260.00 You save $35.32 (13%)
Get 5% off with code 5APR19 when buying 2 or more items

FREE delivery to United States in 9-17 working days
Short Description: Foundations of Economics breathes life into the discipline by linking key economic concepts with wider debates and issues. By bringing to light delightful mind-teasers,... Read more
Product Description
Foundations of Economics breathes life into the discipline by linking key economic concepts with wider debates and issues. By bringing to light delightful mind-teasers, philosophical questions and intriguing politics in mainstream economics, it promises to enliven an otherwise dry course whilst inspiring students to do well.
The book covers all the main economic concepts and addresses in detail three main areas:
* consumption and choice
* production and markets
* government and the State.
Each is discussed in terms of what the conventional textbook says, how these ideas developed in historical and philosophical terms and whether or not they make sense. Assumptions about economics as a discipline are challenged, and several pertinent students' anxieties ('Should I be studying economics?') are discussed.
Foundations of Economics Hardback edition by Yanis Varoufakis
Product Details
Product Specification
Author

ISBN-13

9780415178914

Format

Hardback,

Publishers

Publication date

May 7, 1998

Pages

424

Product dimensions

165 x 235 x 38mm

Weight

861g
Part 1 Foundations: consumption choices; review - textbooks on consumer and choice theory; history of textbook models - the roots of utility maximization; critique - do we maximize utility (even subconsciously)? - should we? Part 2 Production and markets: review - textbooks on firms, production and markets; history of textbook models - the intellectual road to perfect competition; critique - is the textbook's theory of production good economics, good politics, both or neither? Part 3 Markets, the state and the good society: review - textbooks on markets and social well-being; history of textbook models - the concept of a legitimate state in economics - origins, the dead-end and two escape routes; critique - can a capitalist society be good? Part 4 Does economic theory matter?: the curse of economics.
Categories
Non-Fiction Business, Finance & Law Business & Economics Economics