Galatians
: Discipleship Lessons
A Paperback edition by Ralph F Wilson in English (Jan 18, 2012)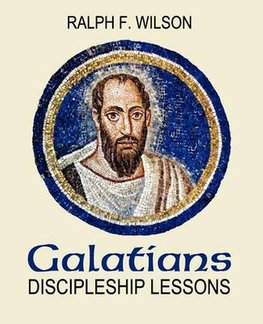 Short Description: Galatians shines as Paul's foundational exposition of core Christianity. ... Read more
Product Description
Galatians shines as Paul's foundational exposition of core Christianity.
It's amazing how many so-called Christians don't really "get it." They think that the basis of Christianity is living a good moral life and doing good works. And - so long as you don't mess up your life entirely - you'll end up in heaven. And, oh yes, Jesus died for our sins, whatever that means.
Paul's Letter to the Galatians deals with this kind of shallow understanding head-on. He had won the Galatians to Christ. But now some Jewish-Christians had begun to convince these Gentile believers that they couldn't be saved unless they were circumcised and kept the Mosaic Law. The new Christians were about to go backwards - from faith in Christ to faith in law-keeping - and Paul is adamant that this is a fall from grace.
As you study Galatians, you'll begin to grasp the core of the gospel that helped Martin Luther to the conviction that we are saved by faith alone. You'll also learn to walk by the Spirit and bear the fruit of the Spirit in your character.
This volume explores Galatians in 9 lessons. Thought-provoking discussion questions make it a useful tool for personal enrichment, small groups, and classes. Extensive footnotes assist teachers and preachers with background research for sermon preparation.
Galatians Paperback edition by Ralph F Wilson