Games, Ideas and Activities for Primary Phonics
A Paperback edition by Lynn Cousins and Gill Coulson in English (May 17, 2012)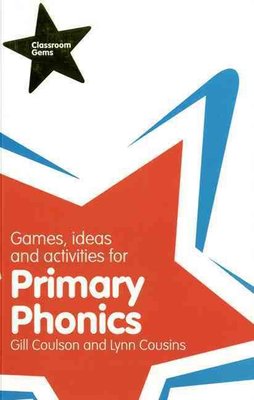 Sorry we don't currently have this.
Please click below and we will notify you when it is back in stock.
Short Description: A collection of 150 unique games and activities to help support your teaching of phonics in the primary classroom.... Read more
Product Description
A collection of 150 unique games and activities to help support your teaching of phonics in the primary classroom.
Following on from the success of their first gem 'Games, Ideas and Activities for Early Years Phonics', Gill Coulson and Lynn Cousins have written a companion gem 'Games, Ideas and Activities for Primary Phonics', introducing more advanced activities and offering a natural progression from the basic sounds introduced in the first book.
The 150 activities in this new book will apply to children throughout the Foundation Year and Key Stage 1, but are equally useful for children who have moved into Key Stage 2 but are not yet confident with spelling and still need to reinforce their skills. As with the first book, the ideas provided are not fully-developed lesson plans, but provide a wealth of ready-made lesson ideas to supplement and support your teaching of phonics.
Designed with busy teachers in mind, the Classroom Gems series draws together an extensive selection of practical, tried-and-tested, off-the-shelf ideas, games and activities guaranteed to transform any lesson or classroom in an instant.
Easily navigable, allowing you to choose the right activity quickly and easily, these invaluable resources are guaranteed to save you time and are a must-have tool to plan, prepare and deliver first-rate lessons.
Games, Ideas and Activities for Primary Phonics Paperback edition by Lynn Cousins
Product Details
Product Specification
Author

Author

ISBN-13

9781408292051

Series

Format

Paperback,

Publishers

Publication date

May 17, 2012

Pages

360

Product dimensions

139 x 217 x 19mm

Weight

440g
Part 1 Using books
Chapter 1 - Stage A
Monkey and Me
Nursery rhymes
The Tiger who Came to Tea (1)
The Tiger who Came to Tea (2)
Not Now, Bernard
Five Minutes' Peace
The Very Lazy Ladybird
Kipper's Birthday
Nursery rhyme Quiz
The Tale of Mrs Tiggy-Winkle
Under my umbrella
Avocado Baby
Search the library
Little Bear Lost
'Round and round the garden'
Chapter 2 - Stage B
Brown Bear, Brown Bear, What Can You See?
The Blue Balloon
'Flo's Toe'
Frog is Frog
The Elephant and the Bad Baby
Knock, Knock. Who's There?
The Very Hungry Caterpillar
The Lighthouse Keeper's Lunch
Huff and puff
This is the Bear and the Picnic Lunch
Nothing
Chapter 3 - Stage C
Where the Wild Things Are
Don't Forget the Bacon
The Chocolate Soldier
The Copper Tin Cup
Chocolate Mousse for Greedy Goose
Iris and Isaac
The Usborne Book of Dinosaurs
'Row, row, row your boat'
100 Things You Should Know About Polar Lands
Mister Magnolia
Be Gentle
Mog's Amazing Birthday Caper
Chapter 4 - Stage D
The Enormous Crocodile
About Your Body
Starting to Measure
Number rhyme
Mirror, mirror on the wall
Toddle Waddle
Two Can, Toucan
'I had a little pet'
Floating and Sinking
The Paper Bag Princess
If Pigs Could Fly... and Other Deep Thoughts
Swallow Journey
Castles
A pocketful of rye
Do You Want to be My Friend?
Part 2 Illustrating phonics
Chapter 5 - Stage A
Cats with curly tails
Funny fish
A zoo plan
What's in Santa's sack?
Sliding sounds
Planet X
The pottery shop
Five little bees
In the garden
Vicky's village shop
Chapter 6 - Stage B
A bird's eye view
The queue
Make a bookmark
Find the squares
Whaam
Owls
Wood and wool
Phonic wheel
A whole lot of holes
Chapter 7 - Stage C
Let's Dance
The snail trail
Night in the town
Once upon a time
One morning
Underground
A winter's night
A spell for Josh
The playground
The Pharaoh's tomb
Write a postcard
Out for a walk
The Venus fly trap
Chapter 8 - Stage D
The guitar
Into the woods
The stormy sea
Fireworks (6 activities)
A counting book
The case of the missing letter
Celebration at the space station
Make a bridge
Poppies
PART 3 Exploring sounds
Chapter 9 - Stage A
Yummy yoghurts
The teacher's pet
Simon says...
Guesssss
Listen before you leap
Spot the odd one out
Jim went to the gym
Rainbow games (4 activities)
Real or nonsense words
Two for one
Do you know?
Chapter 10 - Stage B
Whoosh! Crash!
Something and nothing
Strong string
Warm up with phonics
Rhythm and rhyme
Is this my home?
What can we do?
Join the gang
Chapter 11 - Stage C
Meal times
Could you? Would you?
Think of a word
Full-time
The silver sceptre
Rhyming colours
Bloo? Blue? Blew?
Nine knights
Crunch, munch
High in the sky
What's in the toy box?
Verb or noun
Have fun with tricky words
Chapter 12 - Stage D
Find the schwa
Arctic friends
Bark and spell!
'A weird world'
What a difference one letter can make!
This week's challenge is ...
Press the rewind button
Guess the mime
Work it out
1, 2, 3, 4, go
All change
'e' free
Make it longer
Make a new word
Bingo
Guess the word
Appendices
Appendix 1: Pure sounds
Appendix 2: Watch out!
Categories
Education Teaching Resources Schools Primary & Middle Schools
Education Teaching Resources By Subject
Education Teaching Resources By Subject English Language & Literacy Reading & Writing Skills