Gammy
A Paperback edition by Sheila Helliwell and Paul Hawthorn in English (Jul 19, 2013)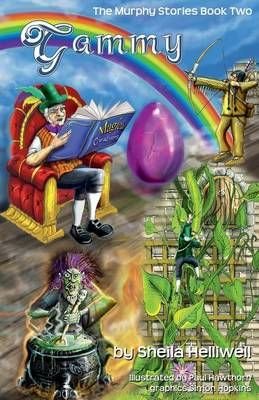 Short Description: Gammy - Book 2 of the Murphy Story Series by Sheila Helliwell ... Read more
Product Description
Gammy - Book 2 of the Murphy Story Series by Sheila Helliwell
This gripping series is suitable for five to eleven years (subject to reading and hearing age).
The ongoing series of Children's adventure stories features Magic Murphy the Leprechaun who the children discover at the bottom of their overgrown garden.
Book 2 continues where Book 1 closed with little Mark bringing back a forbidden egg on his way home from the children's adventures with Murphy in Rakidom.
The creature that hatches out of the egg (Gammy) almost costs Mark his life. Book 2 introduces the 'Nasty' neighbours that live near the children. With the help of Murphy's magical powders and spells, the spiteful son of the neighbours, gets his comeuppance from Murphy and Steven. Gammy's powers are growing all the time, will he use them for good or evil?
The stories include high quality full page colour graphics to help stimulate children's imaginations. Each story is split into short chapters, making it ideal for reading aloud and children reading on their own.
Gammy Paperback edition by Sheila Helliwell