Ghosts
A Paperback edition by Henrik Ibsen and Richard Eyre in English (Sep 26, 2013)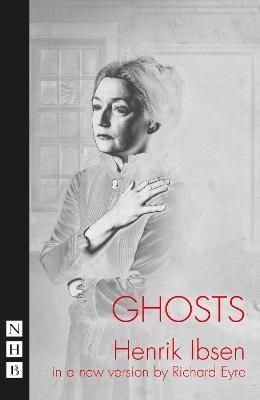 $10.93 + FREE delivery
RRP $20.95 You save $10.02 (47%)
Short Description: Acclaimed director Richard Eyre's version of Henrik Ibsen's Ghosts is a fresh and vivid depiction of a woman who yearns for emotional and sexual freedom, but who is too timid to... Read more
Product Description
Acclaimed director Richard Eyre's version of Henrik Ibsen's Ghosts is a fresh and vivid depiction of a woman who yearns for emotional and sexual freedom, but who is too timid to achieve it.
Helene Alving has spent her life suspended in an emotional void after the death of her cruel but outwardly charming husband. She is determined to escape the ghosts of her past by telling her son, Oswald, the truth about his father. But on his return from his life as a painter in France, Oswald reveals how he has already inherited the legacy of Alving's dissolute life.
This edition contains an introduction to the play by Richard Eyre, which appeared in an edited version in the Guardian.
"Raw and unsparing, but also devastatingly true to the spirit of the original... theatre seldom, if ever, comes greater than this." - Sunday Telegraph
"Both humorous and deeply affecting... the most lucid and affecting version of the play I have ever seen." - Time Out
"Richard Eyre's new stripped-down 90-minute version has glories too many to list." - The Times
"Held me in its grip throughout... leaves one reeling." - Telegraph
"Glittering, dark... as fresh and unsettling as ever." - Financial Times
"Grabs you by the throat and never releases its grip... extraordinary." - Guardian
"Scaldingly intense... the inexorable build-up of tension is beautifully calibrated." - The Arts Desk
Richard Eyre worked for ten years in regional theatre in Leicester, Edinburgh and Nottingham. He was producer of the BBC's Play for Today from 1978 to 1981, and was Artistic Director of the National Theatre from 1988 to 1997. He has since worked widely in theatre and opera - including in the West End, at the National Theatre and the Royal Opera House, on Broadway and in Aix-en-Provence. His film and television work includes The Ploughman's Lunch, Tumbledown, Iris, Notes on a Scandal, and Changing Stages, a six-part look at twentieth-century theatre. He has received many awards for theatre, TV and film, and was knighted in 1997.
Ghosts Paperback edition by Henrik Ibsen