Gifts of Imperfect Parenting
: Raising Children with Courage, Compassion, and Connection
A CD-Audio edition by Brene Brown in English (May 1, 2013)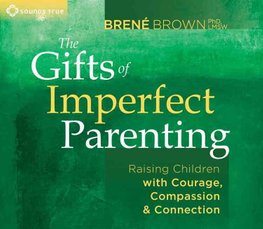 $14.98 + FREE delivery
RRP $19.95 You save $4.97 (24%)
FREE delivery to United States in 4-8 working days

Ready To Go

This book will leave our US warehouse within 1-2 working days.
Short Description: Dr. Brené Brown's Ten Guideposts to Wholehearted Families... Read more
Product Description
Dr. Brené Brown's Ten Guideposts to Wholehearted Families
We all know that perfect parenting does not exist, yet we still struggle with the social expectations that teach us that being imperfect is synonymous with being inadequate. These messages are powerful and we end up spending precious time and energy managing perception and the carefully edited versions of the families we show to the world. On The Gifts of Imperfect Parenting, Dr. Brené Brown invites us on a journey to transform the lives of parents and children alike. Drawing on her 12 years of research on vulnerability, courage, worthiness, and shame, she presents 10 guideposts to creating what she describes as "wholehearted" families where each of us can continually learn and grow as we reach our full potential, including:
Cultivating worthiness in families?the knowledge that we are each always worthy of love and belongingVulnerability?the key to true connectionEngaging in creativity and play as a familyPracticing gratitude and joy in the homeRespect and hard work in a culture of "fun, fast, and easy""It's actually our ability to embrace imperfection that will help us teach our children to have the courage to be authentic, the compassion to love themselves and others, and the sense of connection that gives true purpose and meaning to life," states Dr. Brown. The Gifts of Imperfect Parenting is a practical and hopeful program for raising children who know that they are worthy of love, belonging, and joy.
Course objectives:
Discuss how to cultivate worthiness in families-the knowledge that we are each always worthy of love and belongingExplain how to engage in creativity and play as a familyDiscuss how to cultivate a practice of gratitude and joy in the homeExplain the value of respect and hard work within a culture of "fun, fast, and easy"Discuss how to embrace imperfection as a parent and how to teach our children to have the courage to be authentic and compassionate
Gifts of Imperfect Parenting CD-Audio edition by Brene Brown