Goldmine Record Album Price Guide
A Paperback edition by Dave Thompson in English (Apr 28, 2017)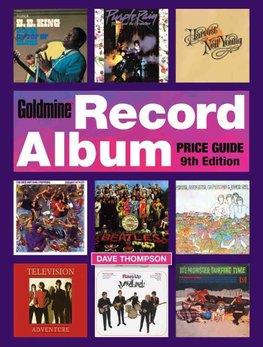 Sorry we don't currently have this.
Please click below and we will notify you when it is back in stock.
Short Description: Music Matters!... Read more
Product Description
Music Matters!
With its rich history of appreciation for the format and featuring more than 110,000 albums covering 60 years, Goldmine Record Album Price Guide, 9th Edition, is the best and most trusted resource for buying, selling or simply enjoying a vinyl album collection.
This completely vetted and massive reference features:More than 110,000 American-released vinyl albumsCurrent values and key identification information including artist name, record label, catalog number, format details, release date and more.Rock, Pop, Jazz, Country, Blues and moreVarious Artists Collections, Soundtracks and Original Cast RecordingsAn easy-to-use format for effortless discovery and enjoymentThe Goldmine Grading Guide, the most widely used guide for determining condition in the hobby todayWhether you're new to the scene or an experienced collector, Goldmine Record Album Price Guide is here to help.
Goldmine Record Album Price Guide Paperback edition by Dave Thompson