Grief Counselling and Grief Therapy
: A Handbook for the Mental Health Practitioner
A Paperback edition by J. William Worden in English (Dec 2, 2009)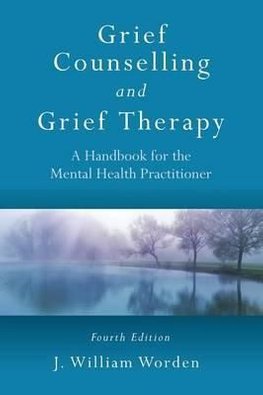 $38.80 + FREE delivery
RRP $40.95 You save $2.15 (5%)
FREE delivery to United States in 6-12 working days

Ready To Go

This book will leave our UK warehouse within 1-2 working days.

No longer available for delivery before Christmas to the United States
Short Description: "The fourth edition of this book retains all the theoretical strengths and clinical wisdom of past editions, while incorporating emerging theories and cutting-edge research. It is... Read more
Product Description
"The fourth edition of this book retains all the theoretical strengths and clinical wisdom of past editions, while incorporating emerging theories and cutting-edge research. It is required reading for any counselor, educator, or researcher who wishes to understand grief. "Kenneth J. Doka, PhD, Professor, The Graduate School, The College of New Rochelle; Senior Consultant, The Hospice Foundation of America
"I can't think of a thing Worden has missed." Stephen Fleming, PhD, Department of Psychology, Faculty of Health, York University, Toronto, Ontario, Canada
"Simply stated, you will not find a better book to guide you in assisting people struggling with the myriad of issues following a death" Donna L. Schuurman, EdD, CT, Executive Director, The Dougy Center for Grieving Children & Families, Portland, USA
"Clear without being simplistic, caring without being sentimental and authoritative without being obscure, Worden's text remains essential reading for all who care about bereaved people." Colin Murray Parkes, Honorary Consultant Psychiatrist to St Christopher's Hospice, Sydenham and St Joseph's Hospice Hackney. Life President, Cruse Bereavement Care
Grief affects different people in different ways, most emerge from mourning in a healthy manner but for some the death of a loved one can cause intense emotional pain that is difficult to recover from. This type of grief can often surface as an underlying cause of physical and mental health problems requiring professional treatment.
This highly anticipated fourth edition builds on the success of the previous editions which received worldwide acclaim for their sensitive, insightful, and practical approach to grief counselling.
Grief Counselling and Grief Therapy is an essential resource for everyone working with the bereaved, from those just entering the field, to seasoned practitioners.
Product Details
Product Specification
Author

ISBN-13

9780415559997

Format

Paperback,

Publishers

Publication date

Dec 2, 2009

Edition

Edition Number 4; Revised

Pages

328

Product dimensions

156 x 234 x 17mm

Weight

521g
Introduction. Attachment, Loss, and the Experience of Grief. Understanding the Mourning Process. The Mourning Process: Mediators of Mourning. Grief Counselling: Facilitating Uncomplicated Grief. Abnormal Grief Reactions: Complicated Mourning. Grief Therapy: Resolving Complicated Mourning. Grieving Special Types of Losses. Grief and Family Systems. The Counsellor's Own Grief. Training for Grief Counselling.
Categories
Non-Fiction Science & Medicine Medicine Other Branches Of Medicine Clinical Psychology Psychotherapy